Sewing a shirt on a button: The pseudoarchaeology of 1491 (Pt. 2)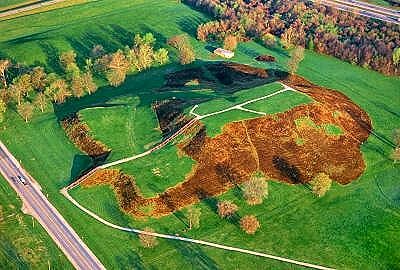 In part one of my critique of the book 1491: New Revelations of the Americas Before Columbus by Charles C. Mann, I noted how Mann's writing was influenced by a political agenda common in Native Studies — one that denies the developmental gap that existed between aboriginal and European societies before contact. More advocate than scientist, Mann is a purveyor of what's known as "pseudoarchaeology," a practice where evidence is selected to support a preconceived conclusion.
Having generally described pseudoarchaeology's main characteristics and rhetorical strategies in part one, I will now turn to Mann's specific claims about the "civilization" of Cahokia, and how they reveal indicators of pseudoarchaeology, both in 1491 and in a number of its sources. I will do so by examining the available archaeological evidence with respect to the following four questions:
1) Was Cahokia a "city" of 15,000 people?
2) Were the mounds in Cahokia constructed by human beings?
3) What were the dwellings in Cahokia like?
4) Was Cahokia a "busy port"?
These questions cannot just be answered by an appeal to authority, as is largely Mann's approach in his rebuttal, since this is an indicator of pseudoarchaeology.
1.    Was Cahokia a "city" of 15,000 people?

In his response to my rebuttal, Mann does not address my objection to this characterization (made in 1491).  Mann refers to Cahokia as a "city" even though he maintains that "it is not a city in the modern sense." [23] He goes on to say that "Cahokia's dissimilarity" is due to "having never seen a city its citizens had to invent every aspect of urban life for themselves." The use of the word "city," therefore, appears to rely on a vague definition, as occurs in pseudoarchaeology.
As Mann claims that he has "tried to use terms that historians of Europe or Asia would use to describe social and political entities of similar size and complexity," [24] questions should be asked as to what constitutes a city in the archaeological literature.  An archaeology textbook on ancient civilizations, for example, notes that there are three characteristics of a city:
1) a relatively large and dense settlement
2) the development of specialization and interdependence between the urban core and rural hinterland (the former is characterized by craft manufacture and markets where products can be exchanged)
3) "a degree of organizational complexity" consisting of "centralized institutions to regulate internal affairs and ensure security"
These centralized institutions are indicated by monumental architecture such as fortifications, temples and palaces. [25]
With respect to the large size and density of Cahokia, it is highly unlikely that thousands of people lived in this area. Population estimates should be tempered, in part, by looking at societies with similar technology and infrastructure. It has been already mentioned that English villages of the 13th Century, with much more sophisticated technology, only contained about 300 people. The evidential support for the 15,000 number is sparse: it is maintained that it would have taken a "big workforce" to have constructed Monks Mound quickly, which Woods, for example, hypothesizes was necessary to ensure that the mounds would not succumb to slumping. [26]
Pauketat makes a similar argument with respect to his interpretation that the grand plaza was leveled in a short space of time, even asserting that the "city" of Cahokia emerged as a "big bang" where "political and social change happened quickly, effected by visionaries who shaped events and influenced a group of people in a profound way…" [27] These assertions are purely speculative, however, and one would have to consider that it is unlikely that the number of people needed to construct earth mounds and "plazas" would exceed the number required for creating Stonehenge (dragging large rocks would have necessitated much more coordinated efforts).
With respect to the second characteristic of a city, there is very little evidence of specialization and interdependence between the core and hinterland in Cahokia, despite arguments to the contrary. While both Pauketat and Fowler refer to craft manufacture, and Fowler maintains that markets "may have been held," [28] the only "crafts" referred to are shell beads, microlithic artefacts and sandstone files. [29] The evidence of a division of labour is very weak, therefore, and it is hard to accept that markets existed when there was no currency or writing.  No interdependence between urban and rural in Cahokia is indicated by the archaeological record since the dwellings in Cahokia did not differ functionally from those outside "the downtown"; "temples" are often mentioned, but it is not explained how one can differentiate a temple from a residential dwelling (no altars or offering tables are noted).  Although social stratification is shown by the grave goods that were buried with skeletons, there does not appear to be a higher-density manufacturing centre with farmers residing in the outlying areas.  Mann, in fact, maintains that Cahokia consisted almost exclusively of farmers, and that "it had few specialized craftworkers and no middle-class merchants." [30]
A number of aspects of organizational complexity are put forward — a palisade requiring 20,000 logs, woodhenges ("astronomical observatories," in Pauketat's words), and large plazas.  This infrastructure does not exist as "ruins," however; it has been interpreted through aerial photography, the excavation/analysis of impressions in the soil and geophysical surveys.  Although determining the archaeological validity of these claims would require a deeper analysis than what is possible here, it is important to note that many of the assertions made by Cahokianists follow the pattern noted by Fagan — "suggestions are raised as possibilities in one place and resurrected later as established facts."
In the case of the palisade, for example, its existence has been inferred from a line of differently coloured soil, from which a trench was intermittently excavated to the east of Monks Mound. [31]  Although it is recognized that only "the eastern portions of this palisade were clearly indicated on the air photos and in the limited excavations," [32] Cahokianists who note this go on to assume that there was a western, southern and northern wall; it is even present in the "reconstructions" of "downtown Cahokia" that appear in figures and illustrations.  This "fact" is then enthusiastically recounted by Mann who asserts that "a massive, two-mile-long palisade around the central monuments, complete with bastions, shielded entryways, and maybe a catwalk up top" was constructed.  He goes on to speculate that the palisade
"was probably created to separate elite from hoi polloi, with the goal of emphasizing the priestly rulers' separate, superior socially critical connection to the divine.  At the same time the palisade was intended to welcome the citizenry — anyone could freely pass through its dozen or so wide gates.  Constructed at enormous cost, this porous architectural folly consumed twenty thousand trees." [33]
Here we have a classic case of a pseudoarchaeologist who "begins with a known quantity and stretches it into the unlikely to conclude the implausible." Why would a fortification have been built so as to let "anyone … freely pass"? Mann is always ready to be impressed on behalf of his readers, who may otherwise be skeptical of his interpretations.
2.    Were the mounds in Cahokia constructed by human beings?
In response to my rebuttal, Mann is emphatic that the earth mounds in Cahokia were man-made.  He points out that over 500 peer-reviewed papers have shown this to be the case, and he "suspect[s] that one couldn't find a single peer-reviewed journal article asserting [that they were natural formations] written in the last 80 years."
What is not noted in this assertion, however, is how questioning the human influence on the mounds' formation is discouraged. Fowler, for example, maintains that "those who proposed that Monks Mound was a natural phenomenon were probably influenced by racist attitudes," [34] even though the skepticism was often linked to the level of technology present, not racial factors.   Other attempts to suppress skepticism concern those interests that benefit from the aggrandizement of the Cahokian archaeological site.
One of these interests is tourism, and the excitement that can be generated by exaggerating the cultural accomplishments of prehistoric Cahokians. One of the original archaeologists who excavated the Cahokia site, Warren K. Moorehead, for example, used the idea that the mounds were man-made to promote the preservation of the area. According to Fowler, Moorehead "took the position that the mounds were all man-made and that even discussing the possibility of the mounds being natural formations would greatly injure attempts to make the area a state park." [35] These political pressures mean that the consensus about the mounds' formation should be treated with a certain amount of skepticism and the evidence provided must be evaluated rigorously.
There is evidence, however, pointing to the man-made character of some of the mounds (it is also possible that some were added on to preexisting natural formations).  The most likely scenario is that these mounds were constructed for burials, since this occurred in many Neolithic cultures in Europe. It has been noted that the beaker culture that built the initial phase of Stonehenge, for example, "buried their dead singly, in graves containing a dagger, a bow and arrow, some ornaments, and a beaker.  Over this grave they piled earth in a round mound." [36]  Many other sites show the historical existence of barrows "designed for the collective burial of the dead; they were between 100 and 400 feet long, between 30 and 50 feet wide, and about 12 feet high." [37] One mound in Cahokia also contains several burials, which includes similar types of grave goods.
Cahokianists, however, have speculated about many additional functions besides burying the dead. The largest amount of "envisioning" has occurred in the case of Monks Mound and "downtown Cahokia" more generally.  Monks Mound is characterized as a "pyramid" by Pauketat, [38] which involves the advocacy-driven stretching of definitions. [39] It is claimed that this mound had a large temple or building for the elite at the top, making it a kind of an earth ziggurat, similar to those found in Mesopotamia. [40]
It is not clear, however, how it has been determined that this temple existed.  Fowler notes that, at the top of the mound, there was "evidence of intense construction activity, which included large buildings, fences, posts, and a small platform mound." [41] But he also points out that "glass beads, a cast copper bell, and other historic material, along with the remains of an unusual building that had not been constructed in the usual wall-trench method of Missisissipian Indians" was found. [42]  The latter findings would indicate that the remains were probably post-contact, as Cahokians did not appear to have the technology to cast metals or make glass (Monks Mound was used by European settlers after contact).
Dubious speculation also appears to have intruded into the analysis of the formation of the mounds, especially Monks Mound.  There are indications of this in the works of Woods, Fowler and Dalan et al., which maintain that Monks Mound was created, not just by continuously dumping basketfuls of earth, but "with an impressive display of engineering savvy" (the words of Mann) to prevent slumping.  Woods argues that this was done by creating a clay base "900 feet long, 650 feet wide, and more than 20 feet tall," even though, as Mann points out, "clay should never be selected as the bearing material for a big earthern monument" as it swells and "over time heaving will destroy whatever is built on top of it." This was evidently counteracted, according to Woods, by maintaining the slab "at a constant moisture level: wet but not too wet." To prevent the clay from drying, "Cahokians encapsulated the slab, sealing it off from the air by wrapping it in thin, alternating layers of sand and clay." [43]
But is it likely that Cahokians had such knowledge of soil engineering to separate out various types of soils and recombine them in accordance with this understanding?  The encapsulation of the "slabs" by layering would not have just come about incidentally. The level of engineering required would involve experimentation and research, both unlikely without writing.  And if they had this understanding, why would they have chosen to build such a large unsuitable base? This is where a comparison with other mound building cultures would be instructive.  Do they show evidence of the sophistication that is being claimed in the case of Cahokia?
3.    What did the dwellings in Cahokia consist of?

In discussing Cahokian dwellings, Mann maintains that there were "hundreds of red-and-white plastered homes with high-peaked deeply thatched roofs like those on traditional Japanese farms." He then extends this description in his response to my rebuttal by stating that they were waddle and daub homes like those that existed in 17th Century England. Hundreds of these dwellings, according to Mann, have been "uncovered" and "identified" in Cahokia using "modern [archaeological] techniques."
Although I had erroneously assumed that Mann's description was one of wood plank homes covered by plaster (stucco), thus explaining my misguided question about nails and saws, I do not see how I could have developed an alternate understanding by looking at 1491's endnotes.  Mann claims that the endnotes indicate "the source of that particular description" (Envisioning Cahokia, pp. 64-78), but this source is only used with respect to determining a "Cahokia chronology" (inferred from radiocarbon dating), not dwellings, and only page 69 is referenced. [44]
It is also important to point out that it is not correct to claim that wattle and daub houses were "uncovered." The "identification" of these dwellings was inferred from impressions in the earth.  The notion that "plaster" was used has not been demonstrated. [45] Nor is it possible to determine the nature of the roofs — whether they were hipped, peaked, gabled, etc. — from impressions of what are assumed to be roof supports and wall-trenches. Is Mann's "evidence" from artist's reconstructions? It is also not clear what Mann is talking about with respect to the "lengthy description of research on Mississippian pigments and house colors, including those at Cahokia" in J.R. Swanton's The Indians of the Southeastern United States.  This discussion is certainly not obvious, since Swanton's discussion of Indian dwellings pertains to the post-contact period.
Mann's comparisons with Japan and England are also inappropriate and misleading as these were Iron Age cultures.  A valid parallel would be the homes of Neolithic peoples in England or the Orkney Islands (Skara Brae).  In the case of the former, they "lived in tents or pits sunk into the ground and covered by wattle." [46] Recently, indications of eight houses were discovered and thought to be associated with the cultures that made the third phase of Stonehenge — a Bronze Age culture.  It has been noted that "each house, made from sticks woven together and crushed chalk, was no bigger than 14 to 16 feet square and had a hard clay floor and a central fireplace.  Indentations in the floor were interpreted as post holes and slots that once anchored wooden furniture." [47]
Also interesting is how early European housing is discussed compared to the exaggerated celebratory language that is used in Mann et al.'s writings about Cahokian dwellings.   Houses in Ango-Saxon villages in England (450-1066 AD), for example, are explained as follows:
"the material conditions of peasant life were primitive and precarious.  Excavations … show that the peasant and his family lived in a rude timber hut of only one room, about 10 feet by 18, with an open hearth … The villagers had few material goods — excavations have turned up only some iron knives, iron combs, bone pins, cattle bells, and loom weights.  Not possessing the potter's wheel until the seventh century, the early English made coarse and unshapely pottery." [48]
The materials discovered in Cahokian sites indicate a lower level of technology (there were no looms, draught animals, or iron tools), but they are characterized by Mann's sources as "elaborate" and "spectacular."
4.    Was Cahokia a "busy port"?
To substantiate this claim, Mann uses the pseudoarchaeologist's appeal to authority and provides a quotation from Fowler's The Cahokia Atlas. When one looks at the page cited, however, no evidence is provided by Fowler to support this assertion (it appears to be a "large claim" shaped by wishful thinking).  Presumably, this conclusion is drawn from the fact that materials from other geographical areas were discovered in Cahokia, as occurred in the case of materials from the Andes appearing at the mouth of the Amazon (this case is referred to by Mann in his response to my rebuttal).  From this it is inferred that a great deal of "trade" must have been taking place, and trips made by large numbers of boats were required to sustain this complex economic activity.
But materials can diffuse across large distances just through the interactions of various groups over time.  The fact that materials from hundreds of miles away are found in archaeological sites does not mean that they were traded; they might not even have been intentionally transported.  After contact, for example, explorers came across aboriginal groups who possessed European materials, even though they had not yet encountered the newcomers face to face.
This raises questions about how archaeologists determine if a site was an ancient "busy port".  According to the dictionary definition, "a port is a harbour, plus terminal facilities: piers, wharves, docks, store buildings, and an infrastructure of roads and rivers or canals." To what extent have these indicators been discovered in Cahokia?  One would expect there to be some evidence of boats, wharves, storage facilities, roads, etc. in the excavations.  In the case of Mann's example of London, for example, archaeological evidence of the port dates back to the Roman period.  A document was found in the 10th Century that "records tolls chargeable at Billingsgate, in respect of vessels from Normandy, France, Liége, etc., and those of the Easterlings." Records also show that activity at the port increased after the Norman Conquest (1066), when "there was a further influx of foreign merchants into London from Normandy, Flanders, Italy, Spain and other European countries who found London 'fitted for their trading and better stored with merchandise in which they were wont to traffic.'" [49]
Although the above focuses on just one aspect of Mann's book, his analysis of Cahokia is not even the worst example of his politically-inspired research agenda.  A more problematic area concerns his analysis of the "Great Law of Peace", where the existence of Deganawidah, "the Peacemaker," is recounted as historical fact after noting that some archaeologists maintain that he "belongs entirely to the realm of legend." [50]  The Baron de Lahontan is also assumed to be a legitimate source (when he is widely recognized as a "travel liar" who invented events and conversations with a mythical Huron chief he called "Adario"). [51]  And then there is his highly dubious use of Benjamin Franklin's quote about "ignorant savages" to justify the view that that the founding fathers were influenced by the Iroquois confederacy in their development of the American constitution. [52]
Conclusion: The political pressure to sew a shirt on a button

Although I hope that my initial analysis of part of Mann's book will lead Native Studies scholars to rethink their uncritical use of this source, it is doubtful that this will happen.  This is because Mann's thesis about the great size and "sophistication" of pre-contact aboriginal societies is consistent with the anti-evolutionary sentiment in current works on aboriginal-non-aboriginal relations.  The mistaken assumption that culture is tied to race, and therefore we should feel ethnic pride about the cultural accomplishments of our ancestors, is preventing an impartial examination of historical processes.  The pernicious and condescending postmodern idea that historical interpretations should be devoted to raising the self-esteem of oppressed groups is an obstacle to the acquisition of knowledge about humanity's development.
This brings me to the main point of contention that many have with Disrobing the Aboriginal Industry – that it accepts the idea that cultures evolve.   Sinclair maintains that the theory is "outdated", but he does not show how this is the case.   In fact, he relies on the pseudoarchaeology of Charles C. Mann as evidence, which de-links technological complexity from social complexity. Besides, ideas do not "date." They are either proven to be wrong by more recent evidence, or remain relevant. Their age has nothing to do with it.
Scientific archaeology assumes that technological development is the major explanatory factor in the development of humanity.  This is why cultures are classified according to the Stone, Bronze and Iron Ages. An archaeology textbook even provides the following as two "major developments" in human prehistory: the origins of 1) complex foraging societies and food producers and 2) urban and literate state-organized societies. [53] A denial of cultural evolution would label the recognition of these two developments as "outdated."
Cultural evolution is just as legitimate a theory as biological evolution.  But while the battle over biological evolution largely has been won (except in venues such as Native Studies programs!), cultural evolution still faces opposition.  This is because cultural evolution helps us to understand political relations and possibilities for social cooperation.  Those who want to mystify future possibilities for human progress have much to lose from the greater understanding of the human condition that the theory of cultural evolution offers.
FOOTNOTES

23.    Mann, pp. 291-2.
24.    Mann, p. 392.
25.    Scarre and Fagan, Ancient Civilizations, 3rd Edition (New Jersey: Pearson, 2008), p. 7.
26.    Mann, p. 293.
27.    Pauketat, pp. 4, 127.
28.    Fowler, p. 201.
29.    Pauketat, The Ascent of Chiefs (London: University of Alabama Press, 1994), pp.86- 87, 180.
30.    Mann, pp. 291-2.
31.    Fowler, Cahokia: The Great North American Metropolis, p. 119.  Fowler notes that "they had not dug very far before they came upon the characteristic dark stains in the yellow soil indicating archaeological features.  The features were a series of trenches that had once held the logs of a great wall or palisade.  As they dug further, they found evidence of not one but four palisades."
32.    Fowler, The Cahokia Atlas, pp. 189-90.
33.    Mann, p. 299.
34.    Fowler, The Cahokia Atlas, p. 98.
35.    Fowler, The Cahokia Atlas, p. 23.
36.    Roberts et al., p. 10.
37.    Roberts et al., p. 7.
38.    Pauketat, Cahokia, pp. 2, 127.
39.    For a discussion of the inappropriate use of the term "pyramid," see Fagan, Archaeological Fantasies, p. 37.
40.    See Brian M. Fagan, Ancient Lives, Figure 3,13, p. 73 and Figure 12.9, pp. 326-7 for a "reconstruction" of ziggurat in Eridu, Iraq.  As these are drawings, a further investigation is required as to whether these drawings are speculative or a realistic representation of the archaeological site.
41.    Fowler, Cahokia, p. 159.
42.    Fowler, Cahokia, p. 161.
43.    Mann, pp. 292-294.
44.    Mann, p. 452.
45.    In fact, Pauketat provides a diagram of a pole-and-thatch building, where the walls are covered by thatch and earth is heaped up against the walls. The description of this dwelling does not mention "plaster", which is assumed in this context to mean smeared mud not actual plaster (a material made of lime, sand and water, or in the case of the ancient Greeks and Romans, gypsum, marble dust and glue).
46.    Roberts et al., p. 9.
47.    John Noble Wilford, "Village May Have Housed Builders of Stonehenge", The New York Times, Jan. 31, 2007 (accessed August 2010).
48.    Roberts et al., p. 55.
49.    Port of London Authority website (accessed August 2010).
50.    Mann, p. 370.
51.    Mann, p. 376.
52.    Mann, p. 374.   On page 382 Mann responds to criticisms about using this quote, maintaining that rejecting it as evidence would be tantamount to saying that aboriginal groups had no influence over European society.
53.    Fagan, Ancient Lives, p. 15.
[ Aerial photo of Monks Mound via Running 'Cause I Can't Fly ]