Disrobing the Politics of Cultural Difference
A new voice has entered the fray in the mediaINDIGENA-hosted debate over theoretical understandings and practical implications of culture — in particular, the contentious idea that cultures can and ought to be compared and evaluated against one another.
Here, the intellectual and political dispute centers around federal policy regarding First Nations in Canada, a debate that's been controversially re-ignited by the book Disrobing the Aboriginal Industry: The Deception Behind Indigenous Cultural Preservation. Among the book's core arguments: the assertion that on-going "native problems" have a "cultural basis."
That was too much for mediaINDIGENA's Niigonwedom Sinclair, who penned a review highly critical of Disrobing. That prompted a rebuttal by one of Disrobing's co-authors, Dr. Frances Widdowson. In it, she criticized Sinclair's citation of Charles C. Mann's 1491: New Revelations of the Americas Before Columbus. Mann subsequently responded. Last week, Widdowson counter-responded.
Now, University of Manitoba sociology professor Dr. Christopher Powell shares his extended critique of Widdowson's most recent post and related comments.
* * *

After reading Dr. Widdowson's interpretation of my comment about her most recent piece, I asked mediaINDIGENA whether I might be permitted space for a longer response, and I am grateful to have this opportunity to more fully address her arguments.
In making their argument against Canada's so-called "Aboriginal industry" — allegedly comprised of self-serving non-Indigenous lawyers and bureaucrats (and some Indigenous political leaders) who enrich themselves by encouraging Indigenous peoples to invest time, money and energy into the misguided pursuit of land claims and self-government — Widdowson and Howard chose to describe Indigenous cultures as 'inferior' to those of the European colonizers. In posts on this very site, Widdowson has called Indigenous peoples "savages" and "barbarians," an attitude she has tried to present as scientifically justified.
As a social scientist myself, I therefore have a personal concern with how Widdowson invokes science to justify her own politics. Allow me then to state here my own political agenda: to do my best to ensure that readers of this website not make the mistake of believing that the only choice before them is to either buy into a view of science that devalues Indigenous culture, or to ignore/devalue science itself.
Science as a Way of Knowing
Before I get to my main argument, let me first say that Widdowson has misread me when she writes "[Powell] maintains that there is one way to understand cultures historically, which is why he is able to claim that 'social darwinism' is incorrect in its analysis."
It is not my view that there is only one way to understand cultures historically. Rather, my argument is merely that social Darwinism is scientifically incorrect.  Since it is the case that social Darwinism presented itself precisely as a scientific justification for certain political ideas, its scientific invalidity is fatal to it.  But this is not the same as saying that there is only one way to understand cultures historically.
My view is similar to that of the classical sociologist Max Weber.  In his essay, "'Objectivity' in Social Science and Social Science Policy," Weber argued that modern Western science is one particular way of looking at the world among other possible ways.  If you commit yourself to looking at the world from the perspective of modern Western science, certain implications will follow that are quite different from those of other ways of knowing, such as Ayurvedic medicine or atheistic Zen Buddhism or Judeo-Christian theism (for instance).  But science cannot prove, in any non-tautological way, that its own values are superior to those of other ways of knowing. We scientists can say only whether certain claims are scientifically valid, not whether they are valid in some absolute sense. Having said all that, let me turn to the main point.
Technology and Cultural Evolution
Widdowson has clarified her position by writing that her understanding of cultural evolution is based not on English philosopher and sociologist Herbert Spencer (as I suggested) but on V. Gordon Childe. She puts great emphasis on the three-age system used by archeologists since the 1820s to classify human societies into the "Stone Age," "Bronze Age," and "Iron Age."  Her classification of human societies as more advanced or less advanced is based on their level of technological development, and she claims that this makes it distinct from Spencer's which, she argues, is based on racism.
In Widdowson's view, it is not because Aboriginal people are racially inferior that their societies were less developed than those of the Europeans who colonized them; their "backwardness" and "savagery" resulted from situational factors like the absence of wheat and the north-south alignment of the Americas.
In reasserting her position in these terms, Widdowson has continued to put herself on shaky scientific ground; she has also not addressed the point I raised in my discussion of Spencer. I will address each of these problems in turn, devoting more time to the first than to the second.
Historical Materialism
The scheme of Stone, Bronze, and Iron Ages (i.e., the 'three-age system') emerged in Denmark in the early 1820s as a way of classifying archaeological artifacts, and gradually became prevalent among European archaeologists as way of dividing up broad historical periods in ancient Europe, Asia, and northern Africa.
Childe used this scheme in his own work to develop an account of social evolution based on technological change. In doing this, Childe was heavily influenced by the 'materialist method of history' (or 'historical materialism,' for short) developed by Karl Marx and Friedrich Engels.
Marx and Engels argued that the most fundamental feature of any society is what they called its mode of production. This includes, on the one hand, the means of production — the actual tools, technology, know-how, and material resources used to produce things — and, on the other hand, the relations of production — the social institutions that organize how the means or production are used, who owns them, and who controls the things that are so produced.
Two societies with the same means of production could in principle have different relations of production, but in practice Marx and Engels — and the Marxian thinkers who came after them — tended for a long time to treat the means of production as more determining.  For instance, an oft-quoted line from Marx reads: "The windmill gives you society with the feudal lord: the steam-mill, society with the industrial capitalist."
To illustrate their theory, Marx and Engels proposed a linear model of human social evolution, with "primitive communism" at the low end, comprising all forager ('hunter-gatherer') societies, and industrial capitalism at the high end, to be eventually superceded by the highest stage of all, communism.
Now, Marx got many things right in his analysis of class relations, but the division of history into a linear sequence of stages was not one of them.  More recent Marxists have pointed out that Marx operated on the basis of very limited and unreliable information about non-European peoples, and that his stages-of-history scheme has not proven to be useful in analyzing the problems faced by Third-World countries today.
Eurocentrism
These criticism made by Marxists of the errors in Marx's historical thought are nicely summarized in the book Eurocentrism, written by Egyptian Marxist Samir Amin.
Eurocentrism is a form of ethnocentrism, but one that is qualitatively different from all other ethnocentrisms.  Ethnocentrism involves the mistake of judging events in another culture by the standards of one's own culture.  It is similar to the egocentric mistake of treating the people around you as if they did not have thoughts and feelings and concerns of their own but thought the same way that you do and felt the same way and face the same issues that you do.
However, Eurocentrism is special because of the historical fact of colonization.  By conquering and colonizing the rest of the world, European societies were able not only to judge other cultures by the standards of their own, but impose those standards by force as well.  If I don't have power over you and I treat you as if your thoughts and feelings were no different from my own, then I simply fail to interact with you successfully; but when I have enough power over you, I can make you think and feel and act as I do — or at least pretend to whenever I'm looking.  And that is what European colonization has done to colonized peoples around the world, from the Americas to Africa to Asia to Oceania.
When colonial power makes Eurocentrism possible, then ethnocentrism becomes a self-fulfilling prophecy. In this way, Eurocentrism is linked to assimilation and, in its furthest extreme, to genocide.
In developing a Eurocentric theory of history, Marx and Engels were typical products of their society.  Virtually all social scientists in the 19th century, and well into the 20th, were Eurocentric.  Eurocentrism went mostly unnoticed and un-commented upon until colonized peoples began to have the political strength to talk back to their colonizers and be heard.
Ages of Whose History?
In developing his theory of technology-based social evolution, Childe generalized from his extensive knowledge of European, west Asian, and northeast African archaeology to the experiences of all human societies everywhere. In this, his work was classically Eurocentric (although this probably never occurred to him, because he would not have been trained to consider any other way of proceeding).  But archaeologists and anthropologists studying peoples outside of Europe and the Mediterranean basin have found the three-age system to be an inaccurate and misleading way of classifying historical societies.
For instance, the Mayans, Aztecs, and Incas all established extensive empires with strong central governments and built large cities with monumental architecture.  These developments were not characteristic of Stone Age peoples in Europe. Classical Mayans in particular had astronomy and mathematics whose feats of precise prediction equaled or exceeded those of 'Iron Age' societies such as Egypt under the Pharaohs and Classical Europe.
The 'primitive' Iroquois League developed a system of political representation, characterized by a balance of powers, that influenced the constitution of the United States of America.
Recent scholarship has shown that the Aboriginal peoples of Tasmania, long considered as the most 'primitive' people on Earth, engaged in extensive projects of ecosystem management, one that included controlled burns of the forest to encourage the growth of food plants and carefully chosen nomadic routes that prevented the over-use of any one source of food.
Likewise, archaeology of North America shows that Indigenous peoples extensively cultivated forest ecosystems to produce an abundance of food well in excess of what would be available in uncultivated wilds.  European colonists, of course, failed even to perceive cultivation practices that did not resemble their own form of agriculture; they thought they were walking through 'wild' forests.
Widdowson, however, does not engage with any of these kinds of findings.  Instead, in this exchange and elsewhere, she dismisses the findings of the past generation of anthropological scholarship as "compromised by postmodern relativism" and the biased work of scholars "who are either prone to wishful thinking or members of the Aboriginal industry." On these bases, Widdowson prefers "the works of anthropologists of the 1950s and the 1960s" to those of contemporary anthropology. In short, the best that can be said of Widdowson's use of social science is that she is reasserting an outdated theory and dismissing evidence which does not match this theory.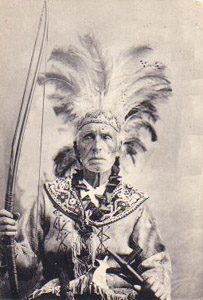 Clearly, Widdowson's argument is not based on a critical appreciation of contemporary social science. But it does appeal to a widely-held belief about a scientific concept, namely, the concept of evolution.
In this regard, Widdowson has not addressed my point about the difference between Spencerian and Darwinian accounts of evolution. The difference between the two boils down to a difference between teleological and non-teleological concepts of evolution.
The word "teleology" derives from the Greek word "telos" which means "end, purpose, ultimate object or aim."  A "teleological" process is one which moves towards a specific end or aim (or, more broadly, a process that moves in a specific direction, even if it has no ultimate stopping point). A non-teleological process is one that does not necessarily move in any specific linear direction.  Darwin's concept of evolution was non-teleological; Spencer took Darwin's work and added a teleological spin to it.
Although Spencer linked his ideas about social evolution to overt biological racism, he also justified his teleological concept of evolution on non-racist grounds.  As I explained in my earlier comment, Spencer ranked societies as 'more highly evolved' or 'more primitive' on the basis of the complexity of their "functional differentiation," i.e., the complexity of their social hierarchy.  More 'differentiated,' stratified and hierarchical societies are considered more advanced than societies with less complex hierarchies.
However, I also pointed out an alternative version of this scheme, still popular today, which ranks human societies according to their ability to appropriate energy from their natural environment and/or effect transformations on that natural environment.  Although the details are different, the logic is the same in both cases.  And it's this second scheme that Widdowson seems to evoke when she ranks societies according to a linear scale of technological development.
What's wrong with saying that some societies are more technologically advanced than others?  Three things.
First of all, the efficiency of a technology is actually relative to context.  For instance, let us compare bows and arrows with muskets in eighteenth century New England.  In its European context of origin, muskets displaced bows and arrows for several reasons. A musket required less skill to use with reasonable accuracy, making it possible to raise and train large armies of musket-wielding soldiers. On open ground, the musket shot traveled further and hit harder than even the best arrows fired from the best English longbows. And muskets themselves could be mass-produced in a process requiring less skilled labour than that of bow-making.
But in the forests of New England, many of these advantages were mitigated or negated, while bows had advantages of their own: they could be fired more quickly than muskets, they could be fired quietly so as not to immediately give away the location of their wielder, they could be made from local materials, they functioned just as well in wet weather as in dry, and so on.  In some encounters, muskets would still be advantageous, but the degree of advantage varied according to local conditions.
The effect of context is all the more pronounced when we consider that technologies need a productive infrastructure to support them.  The "efficiency" of a musket presupposes a whole society organized to produce goods like muskets and gunpowder.  Such a society may be 'inefficient' in other ways, for instance, in its relation to its own ecological resource base, or in its ability to mobilize human labour non-coercively.
Secondly, efficiency has its own drawbacks.  More efficient killing technology has, historically, meant bigger wars. This has peaked in the past fifty years with the development of a global nuclear arsenal capable of eliminating all human life, and most life of any sort, from the face of the planet.  (The possibility of nuclear war has not disappeared with the end of the Soviet Union. See, for instance, the Bulletin of Atomic Scientists "Doomsday Clock.")  Is a condition of possible human extinction by our own hand wielding our own weaponry so obviously superior to a condition where such extinction is not technologically possible?
To pick another example, huge increases in agricultural productivity have been possible in the past century because of the so-called "Green Revolution," enabled by the invention and introduction of petrochemical-based (i.e., oil-based) fertilizers. This in turn has encouraged a huge global population explosion. Earth's growing population, currently at 6.9 billion, therefore depends on an ever-increasing agricultural productivity for its continued well-being.
The catch is, the world only has so much oil. Peak oil — that is, the historic peak of global oil production — is estimated by some to be an imminent, if not already present, situation. Declining oil production will mean rising prices for food (along with most other goods) over the next century, increasing global malnutrition and sharpening social conflicts.
The Aboriginal peoples of Tasmania cultivated their ecosystem's resources sustainably for 12,000 years, while industrial food production produced a situation of global food insecurity in under 200. Which society is the more advanced?
Thirdly, saying that one society is more 'advanced' than another always requires a non-scientific value-judgment. As the examples discussed above suggest, technological change always involves a shift not only in the balance of pros and cons, but also in the kinds of pros and the kinds of cons that people face.  Deciding which set of opportunities and constraints is better than another requires a value-judgment.
And science itself cannot supply those values.  Science can only tell us what the consequences of a certain change are likely to be, not whether we should desire those consequences.  For that we need values drawn from morality or spirituality or politics or some other source.
The Hidden Value-Judgments Behind Scientific Terms
In her response to Niigonwedom Sinclair's review, Widdowson wrote "all human beings were, at one time in history, 'savage', 'neolithic,' and 'barbaric.'"  She further claimed that to characterize societies in this way is based on the technology present at the time, not on some kind of European "value" or a conception of particular cultures being "worthy or meritorious." This is false.
As the Oxford English Dictionary records, the word 'savage' means
"A person living in the lowest state of development or cultivation; an uncivilized, wild person."
and
"A cruel or fierce person. Also, one who is destitute of culture, or who is ignorant or neglectful of the rules of good behaviour."
'Barbaric' means
"Uncultured, uncivilized, unpolished; rude, rough, wild, savage. (Said of men, their manners, customs, products.) The usual opposite of civilized."
and
"Savage in infliction of cruelty, cruelly harsh"
and, furthermore,
"Unpolished, without literary culture; pertaining to an illiterate people."
Even the word 'neolithic', used mostly as a technical term amongst archaeologists, has derogatory connotations. It means
"Of, relating to, or designating the later part of the Stone Age, following the Mesolithic period."
but also
"In extended use: belonging to a former era; outdated or primitive."
When we use words like 'barbaric' and 'savage', these negative connotations come bundled up with supposedly value-neutral connotations.  We can ignore this complexity, but it doesn't go away.  While nineteenth-century anthropologists like Lewis Henry Morgan had some genuine sympathy for the Indigenous peoples that they studied, they still took it for granted that European peoples were superior, not only technologically but culturally and morally as well.
In this sense, they and their intellectual heirs believed, like Spencer, in a teleological conception of evolution.  This teleology implied that 'primitive,' 'inferior' cultures had little or nothing of value to contribute to the evolution of humanity as a whole, and were destined simply to disappear.  This seems also to be Widdowson's position.
Such beliefs are scientifically invalid. They result from the importation of a social ideology — Eurocentrism — into science. A properly scientific, non-teleological conception of evolution says that societies differ from each other and that they change (evolve) over time in response to changing circumstances. But it cannot rank them as better or worse.  At most, science can observe that societies are more or less able to reproduce themselves in their given environment, under given historical conditions. By that standard, I think the jury is still out on our modern, Western industrial society that has conquered the global and is relentlessly assimilating all others into it.
Finally, it is mistaken to say that "humanity as a whole" evolves, for the simple reason that "humanity as a whole" did not exist until colonial conquest incorporated all human societies by force into a single global social system.  Prior to this time, human societies belonged to several different 'world-systems' that were only loosely connected to each other if at all.
The 'evolution' of 'humanity as a whole' is better understood as a violent transformation driven by social interests than as a gradual, quasi-natural process.  And even today, the global social system that makes up 'humanity as a whole' is far from unified: global society is made up of many different cultures.  Whether all of these cultures will fade away or be killed off one by one, leaving only a single uniform global culture based on the most socially dominant groups, it is too soon to say.
Speaking for myself, I hope not. I think that would be a poorer world.  My hope is that the colonized peoples of the Earth will find a way to make their cultures persist and thrive — not just as individualized sets of attitudes and consumption preferences, but as collectively shared ways of living.  The world that I hope for is vibrant with difference. But that is not a scientific judgment; those are just my politics.
[ Images: Penobscot man with bow (c. 1880s) via penobscotnation.org ; musket via snowshoemen.com ]