Outrage as Ottawa company clear-cuts traditional Algonquin land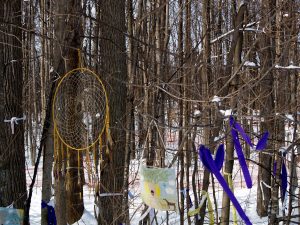 Just a 20 minute drive west of Parliament Hill in the nation's capital lies Beaver Pond, an old-growth forest that according to First Nations is of historic and spiritual significance.
The forest is also home to what archaeologists estimate to be a 10,000 year-old stone circle. But according to reports, as of this morning, the 1,100 hectare wilderness is being 'clear-cut' – all to make room for a new subdivision.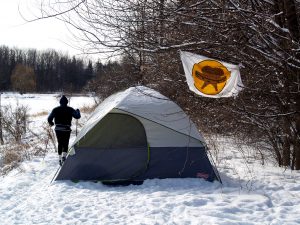 It isn't only First Nations who value this land. Surrounded by suburbs, the land is used by area residents for walking, cross-country skiing, snowshoeing, and mountain biking.
Beaver Pond is also home to over 679 species of wildlife, including 20 that are at risk. Scientists rate the forest as a 'Provincially Significant Area of Natural and Scientific Interest (ANSI).'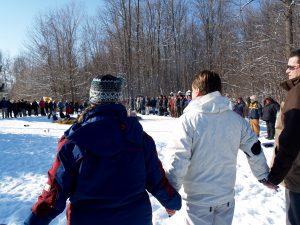 Yesterday, First Nations from the Ottawa region were joined by hundreds of other local people to participate in a 'day of prayer' to save Beaver Pond, including Chief Mireille Lapointe of the Ardoch Algonquin First Nation.
Reciting the words of Algonquin Elder William Commanda she told the people gathered, "Once you cut a forest you cannot replant a forest, it will not regrow."
The company that is building the subdivision, KNL Development, had agreed to delay clear-cutting until January 31 in order for the Algonquins to complete an archaeological report. But with the land now being cleared, it seems obvious that the company believes it has waited long enough.
Chief Paul Lamothe of the Ottawa Algonquin First Nation disagrees: "If we can get a proper archaeological report done, they will find that there are artifacts in the forest," he said. "To do a proper survey it would have to be done in the spring, not in winter conditions."
"The first order of business is legal consultation with the Algonquin people," says Chief Grant Tysick of the Kinounchepirini Algonquin First Nation. "There is no consultation to the Aboriginal people, let alone to the public."
Chief Lapointe is frustrated by the entire process: "There are so many laws and regulations the city has overlooked," she notes. "Why are the developers allowed to pursue this project when they are contravening many rules and regulations by the city of Ottawa? These are some questions that need to be answered."
But as bulldozers begin to raze the forest, it may be too late to get these questions answered.
An emergency rally is being held today on the steps of Ottawa city hall.