But you can be 100% idiotic
Russian ice dance pair Oksana Domnina and Maxim Shabalin continue to irk Aboriginal peoples in Australia, this time at the Olympics, with their controversial outfits and music.
The dynamic duo debuted their "indigenous-themed dance at last year's European Championships where it … soon sparked outrage" for its minstrel-like appearance and casual use of didgeridoo music.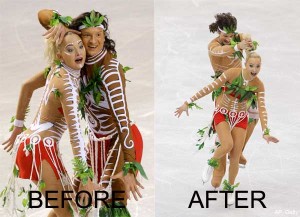 Hearing the complaints, the pair claimed to have fixed things by modifying their outfits. As Shabalin put it: "We changed it a little bit to make it more authentic and less theatrical."  Yeah, that was the problem: its theatricality. See if you can spot the difference.
And yet, despite the skaters' best efforts, "You can't be 100 per cent authentic" when it comes to "pay[ing] tribute to the culture of South-East Asia," according to their coach. 
She's off by a continent, but hey, when you're riffing/ripping off someone else's culture, what's a few thousand miles of ocean?
Bev Manton, chair of the New South Wales Land Council in Australia, gets the last word:
I am offended by the performance and so [are] other councillors. Aboriginal people for very good reason are sensitive about their cultural objects and icons being co-opted by non-Aboriginal people — whether they are from Australia or Russia. It's important for people to tread carefully and respectfully when they are depicting somebody else's culture and I don't think this performance does.
[Image via dallasvoice.com]