Are Avatar Director James Cameron's Politics As Flawed As His Film?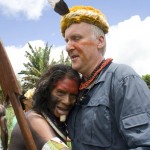 This past weekend, mediaINDIGENA was one of the first outlets to break the news of the emerging alliance between Hollywood heavyweight James Cameron and indigenous people affected by the Alberta tarsands. It comes after similar lobbying efforts by Cameron for indigenous people in Brazil.
But regular readers of this blog may find this script a tad familiar. As we explored in a previous post, Cameron's billion-dollar blockbuster Avatar has had its share of critics, mainly for its recycling of that old cinematic stereotype, the 'Lone White Man Who Saves the Indians.'
So let me put the question out there: is Cameron a genuine force for good here, selflessly standing shoulder to shoulder with indigenous peoples' struggles, as he nimbly employs a kind of political judo that leverages the system's own forces against itself?
Or, is Cameron simply guilty of the alleged sins of his film, becoming just the latest in a long line of white men coming 'to the rescue' of otherwise 'inadequate' Indians?
Might life be imitating art here? We at MI would love to hear your thoughts.
[Image via Atossa Soltani / Amazon Watch, by way of europanewsblog.com]