Your Status Card and Ontario's New HST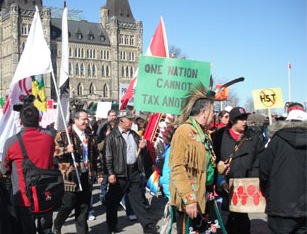 A Chat with the Grand Council Chief of the Union of Ontario Indians
On July 1, 2010, the province of Ontario implemented the Harmonized Sales Tax, combining the 8% Provincial Sales Tax and the 5% Goods and Services Tax for a single rate of 13 per cent at point of purchase. The new tax affects a number of goods and services, but most Ontarians won't notice much of a difference when paying at the till. Ontario's First Nations, however, have been adamantly opposed to the HST since the province announced it.
Up until now, Aboriginal people with status could show their cards at the point of purchase to be exempt from paying the eight per cent PST. It's widely seen as one of the few rights Aboriginal Ontarians can freely exercise in urban settings on a daily basis. So when the HST appeared to jeopardize that right, First Nations across the province rallied against it in towns and cities.
That grassroots and political opposition paid off. Last month Ontario announced status Indians would maintain immediate PST exemption when paying for goods and services – a small victory for people with status cards. Perhaps the most outspoken political organization against the HST has been the Union of Ontario Indians. Representing 40 Ontario First Nations and roughly 42,000 citizens, the UOI spearheaded rallies and online campaigns urging the province to honour Aboriginal rights and its people to speak up for them. As the dust settles, we caught up with UOI Grand Council Chief Patrick Madahbee on what's next for status Indians in Ontario and the HST. We reached him by phone at the UOI's head office in Nipissing First Nation.
Now that the HST is in place, what does it mean for Ontario First Nations?
One of the things that came into discussion when the HST was first announced was that PST exemption would only apply on reserve. We fought vigorously to ensure it was maintained throughout Ontario, no matter where our people live. So the way it works now is there's basically a two month transition period. For July and August, we're asking people to save their receipts on all their purchases. You can file them with the province on a monthly basis and get reimbursed. All you have to do is photocopy the front and back of your status card and send that in with your receipts to the Ministry of Revenue. On September 1st, you'll be able to show your status card once again at the point of purchase to be exempt for the PST portion of the HST.
So for the next two months, the province will send out bulletins to the 700,000 retailers across Ontario to let them know about the new guidelines and how that exemption will work. But it really won't be any different than before – in most cases it's as simple as hitting a button on the cash register to take off the eight per cent. This is a big plus for our citizens. We're also saying to our people that in the next two months – so you don't create any hardships for yourself – avoid making any major purchases so you don't have to shell out your money for the PST in advance. You'll have until November 1st to file your receipts to get reimbursed, but to avoid the headache of waiting just don't buy anything big.
Until then, we're encouraging people to keep their business on reserve where they won't have to pay any sales tax anyway. If you are looking to make a major purchase, think about buying it in the States if it looks like it may be cheaper in the end, instead of having to worry about filing receipts. The summer will go by pretty quick though, and by September we'll be back to where we were before with point of sale exemption.
You put up a very vocal fight against the province. Why was it important for the UOI to keep that pressure on?
We saw this as only the tip of the iceberg in terms of the erosion of our rights. One nation can't tax another nation. We're saying if we were to just let them roll over us and put in this taxation issue, they're basically municipalizing our communities. So we thought what's next? This was just another battle in a long line of rights challenges we're gonna have to fight in the future. More and more of our students can't access funding for post secondary education because the federal government refuses to increase it. There are issues of gender inequality when it comes to Bill C-3 and citizenship. Our natural resources like water are consistently threatened by outside influences. The list goes on. So we saw (the HST) as more of an opportunity for the government to erode our rights. We had to draw a line in the sand. This was a situation that was gonna affect all Anishinaabe people, and we didn't want to let that happen.
So do you see this as a victory?
Well, we won basically to maintain or hold the line. We didn't win anything new. We've had the exemption for years and years and years. We basically didn't want our rights eroded. We saw it as a victory in standing in solidarity.
Many Anishinaabe people have experienced negative attitudes from retailers when exercising their exemption rights in the past. Some clerks act as though it's a hassle to record status cards and take off the PST. Once retailers get those bulletins that exemption in fact will still apply, are you worried about some kind of minor backlash?
There's legislation passed on this. It's the law. Retailers have to honour our rights. Again, it's a tax collecting regime put in place by the federal and provincial governments. They'll be forced to accept the status card whether they like it or not. In reality, it doesn't affect them in any way – the tax goes to the government. We're telling our people if they're having difficulties shopping anywhere, shop somewhere else. Retailers need to understand that if they treat our people as a nuisance, word spreads quickly.
This was an issue just about everyone was passionate about in communities across Ontario. You mentioned solidarity – what do you think these last few months say about the Anishinaabe people?
It definitely shows the resolve and the determination on behalf of our people to draw a line in the sand. The elders, the women, the young people – everyone came together to make sure we kept this right. We had thousands of people march in downtown Toronto. There were rallies in other towns across the province. We spoke up and were heard. I'm very proud.
For more info on where to mail your receipts and other HST questions, visit the Ontario Ministry of Revenue's website.
[Image via leonarddomino.com]