Through Our Own Lens: Three Indigenous Photographers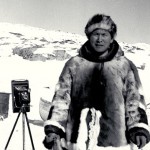 Great article in this month's UpHere Magazine.
"Through Our Own Lens" is a look at the work of three Indigenous photographers from northern Canada, James Jerome (Dene), Peter Pitseolak (Inuit), and George "Kaash Klaõ" Johnston (Tlingit).
We've seen many images of our history taken by outsiders, so to see the past through our own lens is refreshing indeed.
Have a look.
[Photo via Museum of Civilization]