mediaINDIGENA Makeover: New Look, New Logo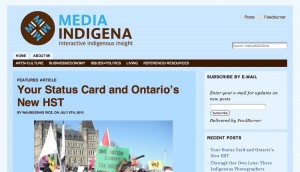 You most likely noticed some changes visiting our site today.  That's because we've re-launched mediaINDIGENA with a new look and a new logo.
The logo is the work of Winnipeg-based graphic designer Sébastien Aubin (Cree) and we couldn't be happier with his vision!
We're still working out some of the bugs so if you notice something is not working properly or looks a little wonky, please bear with us.
But if something is still out of order, don't hesitate to send us a email.  We'll have it in working order in no time.
Hope you like our new look!