VIDEO: Adam Beach discusses role in upcoming blockbuster "Cowboys and Aliens"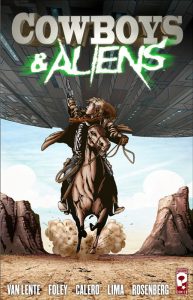 Next year, Adam Beach will get to share the hi-ho-silver screen with none other than Harrison Ford in the upcoming movie "Cowboys and Aliens," described as a mix of sci-fi and western genres. It's due to hit screens July 29, 2011.
According to movieweb.com, "the film takes place in 1870s Arizona, where a skirmish between cowboys and Apaches is interrupted by the crash landing of a space ship." It's loosely based on the original graphic novel of the same name, put out in 2007 by Platinum Studios.
Here's what Beach had to say about his character, the "half-Apache" henchman Nat Colorado, in a recent interview at Comic-Con 2010:
For more from Beach about the flick, check out his other interview (complete with expletive) with About.com. You can also visit the official movie site for a fuller synopsis and other goodies.
Knowing Hollywood's track record in the Western genre, I am frankly hoping the portrayal of the Apache or any other Aboriginal person is only moderately stereotypical in this film.
And, given current battles over immigration in a certain southern US state, the fact that this is a movie about battling aliens in Arizona is an unintentional coincidence, I'm sure.