Saving Aboriginal peoples from themselves: Could the Australian model be creeping into Canada?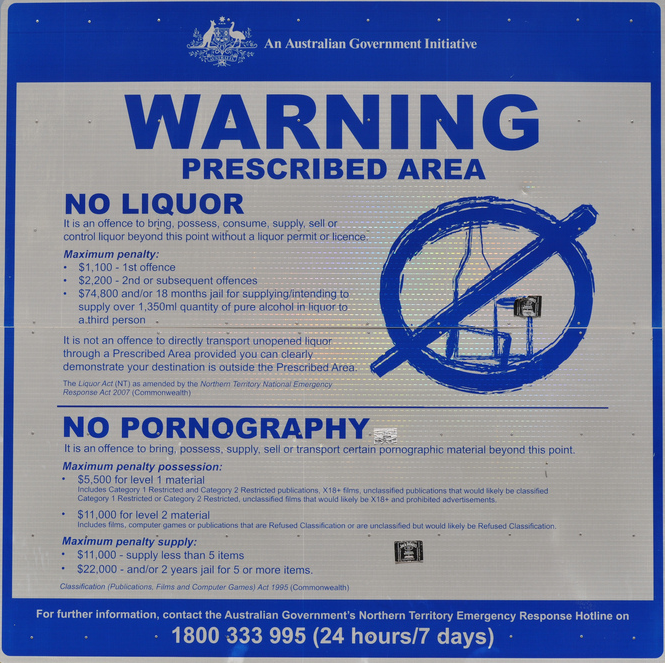 As my friends know all too well, I allow myself to be somewhat susceptible to sweeping, dramatic theories bordering on the conspiratorial. To me, they're almost a form of entertainment, a kind of political science fiction in which I heartily indulge as a geeky, guilty pleasure.
But what if, as the old joke goes, everyone truly IS out to get you? Oxford defines 'conspiracy' thusly: "A secret plan by a group of people to do something harmful or illegal."
Secret, harmful, illegal — on all three counts, there is no doubt a sizable number of Aboriginal people in Australia's Northern Territory who would argue they've been subjected not to a theory but the fact of a conspiracy for the past three-plus years. It's taken the form of a massive federal legislative incursion known as the Northern Territory Emergency Response (NTER), what's now become informally known as the 'NT Intervention.'
Announced on June 21, 2007, the NTER was unilaterally imposed by the federal government upon some 70 Aboriginal communities in the Territory. One of the last acts of a supposedly desperate (and subsequently defeated) Conservative regime led by John Howard, the suite of laws was justified in the name of arresting and eliminating the physical and sexual abuse of Aboriginal children. According to the Minister for Indigenous Affairs at the time, "All action at the national level is designed to ensure the protection of Aboriginal children from harm."
In other words, supposedly incapable of dealing with their own problems, the Territory's Aboriginal peoples needed to be saved from themselves.
As the above roadside sign illustrates, the NTER famously included prohibitions on alcohol and pornography in these predominately-Aboriginal communities. The NTER also brought in outside officials to run the communities, added more police, provided for the systematic health assessment and follow-up care of children, made sure those same children attended school, and altered the form of welfare payments (e.g., as credits redeemable only at grocery stores) so they would reach their intended beneficiaries, i.e., children.
Somewhat controversially, the NTER also provided for the Australian government's acquisition of 5-year leases over Aboriginal community lands, which the government says enabled it to "provide prompt access for the delivery of services, repair of buildings and development of infrastructure in communities." But critics fear the move actually conceals a land grab to make it easier for mining companies to set up in Indigenous territories thought to be opposed to resource extraction.
Last but certainly not least, according to Amnesty International, these "Intervention measures are racially targeted, as they are applied regardless of individual circumstances, to all residents of 'prescribed areas and communities,' which are all Aboriginal towns, communities, outstations or town camps."
Despite a new Labour government coming into power shortly after NTER's enactment in late 2007, the Response's main thrust and motivation — including its "top-down, monolithic and paternalistic approach," as one critic put it — seem to have been largely retained as of 2011.
Recalling our Oxford definition, one might argue the Response/Intervention pretty much fits the criteria of conspiracy:
'secret,' because it came without warning or consultation
'illegal,' because it violates the human rights of those affected — indeed, as critics point out, application of Australia's Racial Discrimination Act had to be suspended in order for NTER to even proceed (a suspension since repealed, claims the government)
'harmful,' because by marginalizing the very people it's supposed to help, the government only renewed and reinforced the colonial dynamic that so debilitated these communities in the first place
Meantime, the fallout from the NT Intervention continues and, somehow, it's disappointed both its proponents ('didn't go far enough, fast enough') and its opponents ('a human rights violation from the get-go'). In any case, if my interpretation of reports published in 2010 and 2011 are correct, the crisis in Aboriginal child welfare that ostensibly inspired NTER is still very much an active concern.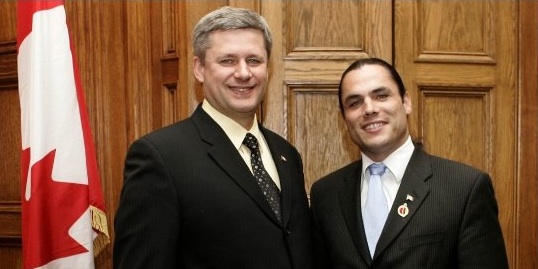 Now, I imagine some of you who share my home base of North America might be a tad curious as to why I would go on and on about some initiative way over yonder in Australia. Surely, such 'interventions' couldn't happen here in Canada?
Couldn't they, though? It's by no means an imminent threat, I'll admit, but, if you could just hear me out, I want to explore the idea that some of the same contributing elements that made initiatives like the NT Intervention possible down under similarly exist — if only in nascent form — in the lands of the true north strong and free.
Indeed, I will argue that this interventionist ideology has already put down roots here. And what's more, its brightest torchbearers may even prove to be of Indigenous extraction.
And on this latter front, few may come to burn brighter than Conservative Senate appointee Patrick Brazeau, whose push for greater "accountability, transparency and responsibility in the undertaking and delivery of Canada's Aboriginal affairs" has led him to call for a full-fledged inquiry:
I am convinced that this issue [of greater accountability and responsibility] is at the heart of the problem as Canada's Aboriginal community grapples with unrelenting poverty and lack of opportunity.
Complicit in this lack of accountability, charges Brazeau, are the national organizations representing First Nations, Inuit and Métis peoples, all three of which pretty much draw the bulk of their funding from federal sources. Indeed, the Senator goes so far as to openly question whether money spent on these national groups could be put to better use elsewhere (now that he no longer draws a salary from one of them, anyway):
As we look at new models and the need for new funding sources, I believe directly reallocating some of these not inconsiderable resources [away from national Aboriginal organizations] is an idea whose time has indeed come. Let us redirect resourcing to the people in the greatest need and to the areas in which it is most required.
But, in arguing that bodies like the Assembly of First Nations are inherently incapable of fully and truly representing grassroots interests, Brazeau is hardly alone. According to Clayton Warren Maxie,
[I]t is obvious the only voices heard on Aboriginal issues are the well-funded, well-connected Aboriginal lobby groups, which is unfortunate. When reporters need a comment on an Aboriginal issue, they go to these established groups. Sadly, these groups largely represent the interests of leaders and the 'Aboriginal industry.'
Maxie also accuses the Assembly of First Nations of not "dealing with governance problems on First Nations." His partial answer? "A few independent NGOs [non-governmental organizations], unconnected to the Indian Act system." Such NGOs might take "the form of policy think tanks and pro-democracy groups, but the idea is to give a voice to those who currently have none." Here, Maxie seems to imply the creation of groups alongside the AFN, but it's not difficult to imagine that his message could also be interpreted as justification for AFN's outright abolition.
Outlandish, you say? I refer you once again to Australia, where, in 2005, the country's rough equivalent to the AFN, the Aboriginal and Torres Strait Islander Commission (ATSIC), lost all of its federal funding amidst "various allegations of assault, sexual assault, and fraud" against some of its senior office-holders: two years later, the NT Intervention was put into effect. As a report published by Australia's Parliamentary library noted, ATSIC had long been
"subject to intense public and political scrutiny, no more so than in the areas of expenditure and accountability … Issues of funding were also the focal point for debates about ATSIC's effectiveness. …

Yet, perhaps because of its unique blend of executive and representative functions, and its highly visible presence in an area where 'success' is difficult to define and therefore hard to achieve, ATSIC was an easily identifiable symbol of the perceived failure of government spending on Indigenous-specific programs to yield sufficiently positive results. … [M]any of ATSIC's elected representatives complained that it was the scapegoat for the inadequacies of all levels of government in Indigenous affairs."
Intentionally or otherwise, by calling into question the very existence of national or even regional Aboriginal organizations — a call periodically 'sexed up' with button-pushing issues like the recent disclosure of salaries for Chiefs and councillors — pundits may be setting into motion the ideological momentum for their elimination and, quite possibly, taking the very notion of dedicated institutions under distinctly Aboriginal control and jurisdiction along with them. (Can you say 'municipalization'?) For it could then be a short ideological step from there to imposing a made-in-Canada version of NTER — its very own 'FNER,' aka the First Nations Emergency Response — with no-one around at the national level to effectively oppose it, however imperfectly AFN might do so.
Think about it: the Aboriginal child welfare situation in this country, while perhaps not nearly so dire as some of Australia's worst cases, could hardly be called stellar. Is it that much of a stretch to imagine Canada, à la Australia, feeling 'compelled' to massively intervene in First Nations communities in order to "ensure the protection of Aboriginal children from harm," possibly as a pretense to secure access rights to… oh, I don't know, maybe an undisputed pathway for a certain Oil Sands pipeline?
Am I being conspiratorial here? You tell me. (Seriously, tell me: I would like nothing more than to see a good ol' honest debate come out of this!) Lord knows I am capable as the next person of putting 2 + 2 together and getting 22.
And look, I am all for further democratizing national Aboriginal organizations but, mark my words, bashing them so indiscriminately may see them just as easily replaced with nothing at all, and I'm not convinced that gets us any further ahead either.
Dumping on Aboriginal communities for their perceived failings as if they are entirely at fault (nowhere in Brazeau's account as to why First Nations go into deficit does he imagine that it's because they are chronically underfunded) is a movie we've seen way too many times before. And that movie's initial screening — back in 1492, I believe, when Europeans first said our savage, uncivilized nature precluded us from managing our own lives and lands — paved the way for a series of endlessly repetitive sequels following that same old tired formula: deprive and/or impede Indigenous efforts at securing appropriate and adequate political and economic authority, resources and opportunities, then blame them for the inevitable incapacitation and dysfunction that follows. Finally, top it off with the widespread removal and/or institutionalization of the youngest of our generations — be it via residential schools, foster care, child and family services or prisons — so you all but guarantee an ample supply of future actors in this never-ending drama. All in the best interests of the child, of course.
And you thought Hollywood was unoriginal and derivative. Sadly, as 'plots' go, it's hardly far-fetched, and whether it's co-authored by an Aboriginal hand or not won't make much of a difference to the eventual ending.