Québec's "Niqab" Bill and YOU
I've been following the on-going debate in this province over what it calls "reasonable accommodation" for immigrants. You should too. Here's why. (For those needing background, here's one story and one opinion piece to help you out.)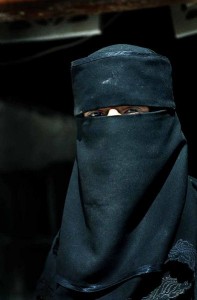 More than a year ago, a small village in this province passed a by-law making it illegal, among other things, to stone women. The by-law was ridiculous but had its supporters. They made clear that their Québecois religious and cultural values would not tolerate those of immigrants — especially Muslim immigrants. The by-laws supporters were condemned — especially outside Québec — as anti-Muslim, anti-immigration, and xenophobic small town bigotry. Critics slammed the by-law itself as institutional racism.
The Liberal Government of Jean Charest saw a chance to snatch the issue from its right-wing political opposition by appointing a panel to hold a series of provincial hearings on "reasonable accommodation." In short, the panel would travel to big cities and small towns to allow people to vent, and to define how tolerant of immigrants their Québec society was prepared to be.
A few weeks ago, an Egyptian woman, an immigrant, was kicked out of her French classes after she refused to remove her niqab. The teacher said the head and face covering, with only the eyes revealed, interfered with her ability to read emotion and therefore to teach the immigrant student. School officials backed up the teacher. The school board did as well. The issue hit the headlines and sparked an avalanche of newspaper ink and call-in radio screech. This week, the Liberal Government stepped in, tabling a bill — Bill 94 — that would, among other things, require everyone working for or seeking provincial government services to have their faces exposed. Once more, it smelled of political pandering to the reactionary right in order to undermine the opposition.
First, as one emailer explained to the host of a national radio program, listeners have no problem hearing emotion when one doesn't see a speaker's face — on the radio — so why would it prevent a teacher from doing so in the classroom?
Second, there are less than 100 women in all of Quebec that wear the niqab, so this is hardly a matter of widespread concern or worry. So people are wondering why the government was so quick with its "niqab" bill? (a name the government hates, btw)
Third, as a lot of people in Québec have noted, the Quebec Legislature, every town and city in the province, many of its institutions, are replete with Catholic symbols. Although the majority of Québecois might identify themselves as "Catholic," most are not practising. While the Church may have lost much of its influence in daily life, it still pulls a lot of influence over ruling governments. Thus speculation that the provincial government is more interested in using religious bigotry and less in striving for religious and gender equality.
Of course, it doesn't affect me directly. Not personally, anyway. Like the vast majority of people in Quebec, I'm not muslim. The "niqab" bill doesn't apply to me. Live and let live. Or can this bill — if made into law and picked up by other provinces as Quebec's justice minister said she hopes it would — be used to impinge upon Indigenous rights?
I've always heard that if you put some bit of power into the hands of a bureaucrat, that bureaucrat will find some way to use it. So I wondered whether this bill — what Québec calls an "open secular" bill — could be used to, say, allow prison guards to violate the medicine bundles of Indigenous elders? Or to deny my ceremonies, such as "smudging,' in the name of "open secularism"?
Could Québec's "niqab" bill be twisted to impinge upon or undermine other rights, religious or otherwise?
Anyone?