Is Saskatchewan applying a double-standard against First Nations University of Canada?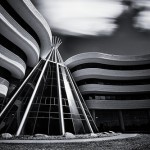 With all due respect to the criticisms leveled against those who have seemingly run the First Nations University of Canada into the ground, there are those who suggest the province is itself no stranger to such secrecy and opacity.
Take this Mar. 26 letter to The StarPhoenix:
A 2007 report to the McCall Review identified the University of Saskatchewan, which receives more than $80 million [i.e., just over 15 times what it's given FNUC] in operating funds from government, as having "the most secretive and non-transparent board of governors in Canada" and criticized the board for not making agendas, minutes and comprehensive financial information available for public scrutiny.
The letter goes on to reiterate others' criticisms of the civic administrations of Regina and Saskatoon, as well as the province itself, for their less-than-forthcoming approaches to governance and citizens' access to information.
Of course, none of this excuses what has been done in FNUC's case, but none of these operations faces imminent shut down either. Cut slack to one, and perhaps you should cut slack to them all. The point is to be consistent across the board, lest the province open itself up to accusations of racism and double-standards.  I leave you to judge.
To be fair, FNUC has been tossed a life-line of sorts by the province for now (although the feds maintain their $7 million contribution is not coming back). I guess we'll just have to see if the scrutiny FNUC has faced will now be universally applied to places like the U of S so that everyone is held to "the same accountability standards."
UPDATE: So, it is with some embarrassment and a mouth full of humble pie that I must include an addendum to this post. Turns out I got sloppy and misread the letter by attributing the "most secretive and non-transparent board of governors in Canada" line to the McCall report itself when I should have used my brain and realized such a provocative and inflammatory line was highly unlikely to have come from a report commissioned and released by the province.

Well, thankfully, a friend of mine (who I won't name unless he volunteers to do so) pointed out the mistake:
[T]his statement is NOT in the 2007 "Post-Secondary Education Accessibility and Affordability Review" [aka the McCall Review, named after its author, Warren McCall] as your link suggests. I just searched the review: there is NO such reference to the University of Saskatchewan. [Accordingly, the link to the McCall report has now been 'de-linked.']

Chris Gallaway's letter actually says that the statement was made in a report TO [and not by] the 2007 McCall Review. I googled Mr. Gallaway — he is a longtime representative in the provincial Young New Democrats and a student at the University of Saskatchewan. The provincial New Democrats lost power to the Saskatchewan Party in November 2007, shortly after the McCall Review was published.

In public discussions like this, I want everyone to declare their interest. Chris Gallaway's letter to the Star-Phoenix does NOT say that he is a student at the university he is criticizing. It does NOT say that he is an active member of the Opposition Party. And it does NOT say how he was able to quote text from a document that does not appear anywhere in the McCall Review.

… [P]eople who make public statements should state their OWN interest in the matter that they are speaking about. They may feel that it reduces the impact of their statement … but it hugely increases their credibility.
My friend is right on the money, and I very much blew it here. I regret the truly bush-league error, but I am grateful for friends whose brains work when mine doesn't.

[Image via Regan Shercliffe]