POLL: Should the Indian Act be gone by 2015?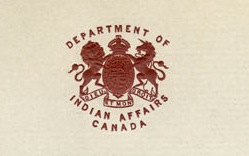 Ah, the Indian Act. You know it, you hate it, you're one of millions wondering what to do with it.
Shawn Atleo thinks he knows. In fact, this week the Assembly of First Nations leader urged that the Act be repealed and replaced in its entirety by no later than 2015.
Replaced with what, you ask? Atleo suggested that the department of Indian and Northern Affairs "give way to efficient entities like a ministry of First Nations/Crown relations … and a treaty rights tribunal." (For a fuller outline of Atleo's proposed vision, consult the released AFN statement entitled "It's Our Time: a vision for the future.")
A very intriguing and ambitious notion, to be sure. So much so, we'd love to hear your thoughts and opinion about the matter, a post-INAC poll, if you will.
[ Image of 1930s INAC emblem via collectionscanada.gc.ca ]