Digital Tools for Learning & Preserving Indigenous Languages
Aniin!  Interested in learning an Indigenous language?  Here are two digital tools that might make it easier: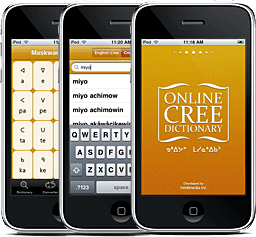 The folks over at the Miyo Wahkohtiwin Community Education Authority have taken their Online Cree Dictionary and turned it into an iPhone/iPad app, free of charge.
Not i-based but still just as cool is Isadore Toulouse's dimdim-based Anishinabemowen (Ojibway) virtual classroom.  Also free of charge, the classroom operates every Wednesday at 7:30 PM ET.
Enjoy!
[Image via creedictionary.com]