AUDIO: Cindy Blackstock reacts to Human Rights Tribunal's dismissal of child welfare complaint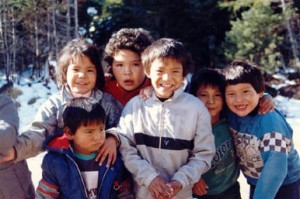 Here's an interview I did today for URBAN NATION LIVE (heard live weekdays at 12 noon central time on Aboriginal hip-hop station STREETZ FM) with Cindy Blackstock, executive director of the First Nations Child and Family Caring Society of Canada.
She reacted to the recent dismissal by the Canadian Human Rights Tribunal of her organization's attempts (supported by the Assembly of First Nations) to secure equitable child and family service dollars for children living on-reserve, that is, at a level equal to that offered by provinces.
Dismissed on what grounds? Well, as I state in the introductory script,
A human rights complaint alleging that Indian Affairs Canada discriminates in the way it funds child and family services on-reserve has been rejected.

According to the First Nations Child and Family Caring Society of Canada, children living on-reserve receive, on average, fewer dollars in child welfare benefits than off-reserve children.

But in its dismissal of the Society's claims, the Canadian Human Rights Tribunal argues the on- and off-reserve comparison is invalid because it involves different services by different providers. First Nations get services paid for by the federal government, while children elsewhere get services via provincial governments.

Cindy Blackstock is the Society's executive director. She joins us from Ottawa.
As you will hear, Blackstock will not stop until the playing field for First Nations children is level with kids in the rest of Canada, a fight that seems to enjoy continually growing support:

[audio:https://mediaindigena.com/wp-content/uploads/2011/03/CFSTribunal2.mp3|titles=CFSTribunal2]

[ Interview: © STREETZ FM 2011 ]