Must juries look like their communities? You be the judge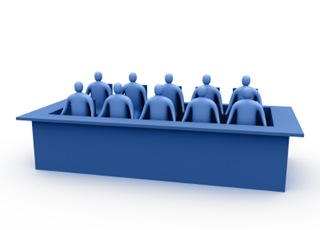 How well do you know the guy next door? Do you understand why he's always up at night — sometimes all night — yelling and shouting? Is it a fight between brothers, or husband and wife, or father and son?  Do you know if they're simply arguing about what music they plan to play 'til the dawn breaks?
Maybe you're the good natured type and you put a pillow over your head and let it go because you were young once too. Or, maybe you slap on your yodelling CD and let that run at full volume in retaliation.
Say you start work at 5 in the morning and you can't take it anymore and you're ready to rip their door off the hinges to end the shouting. And if you do rip the door off the hinges, are you justified?  Or just deranged?
Could be that you know there's been a problem next door. A fight over custody. Money trouble. Betrayal. Maybe it's dementia. Bipolar disorder. A bad reaction to meds that generates unnatural aggression.
How well do you know the guy next door and do you have the right to judge what he's done and for what reasons?
And right now, just who has the right to decide in such matters is a serious issue for a murder trial underway in a Thunder Bay, ON courtroom. A guy named Andre Wareham has killed another guy in an apartment building.
Wareham says it was self-defense. But the trial can't begin because a judge has ruled the pool of potential jurors doesn't include enough Aboriginal representation. It's a shortage that's been a sensitive matter in other trials in the area. The feeling seems to be that if First Nations people are not part of the jury, the community isn't being fairly represented.
But what's on trial in a murder case?  Is the question truly about who did it?  Or is it about whether what was done is truly murder?  Is it about coming to some agreement that murder is what the community — fully and appropriately represented — says it is?  Or is it about a particular community being supportive of its own because you know the other side is particularly unsupportive?
And what does a jury of your peers mean? If I live in Thunder Bay, is it this many Aboriginals and that many non-natives?  How does that work in Toronto?  Does that change when the defendant is Aboriginal and the victim is not, or the victim is First Nations and the defendant is not?
Can any one of us set aside our intuitive beliefs about injustice to pronounce a fair ruling on another?  If you were on trial, is there a particular group of jurors you would instinctively be wary of? Would that be a reflection of race, age, gender?
These are questions that can see us slide into discrimination territory. The answers suggest we are all inadequate judges. The solution seems to be that, if we share those inadequacies around, we'll come to some answer that collectively mitigates our respective biases. It doesn't take into account group think, intimidation, rebelliousness or just plain apathy — all of which can occur when you're working with a small group of people who have the power to decide the fate of another.
I suspect jury trials are all about spreading the responsibility for momentous judgements across the yoke of several backs so no one individual has to bear it alone. In the end, trials make blame-layers of us all.