From pain and fear to hope: a First Nation girl's battle against a rare cancer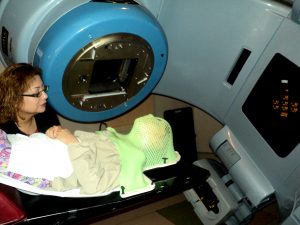 "You just have to do it, otherwise you just end up crying," says Una Belanger.
Life for the mother of five has been dominated by hospital visits, sleepless nights, parking tickets and arranging babysitters.
"I'd come home for a few hours for the night and make sure everything was ready for the next day," Una says tiredly. "We'd end up eating fast food, lots of burgers."
While life for Una and her family was tough, she knew it paled in comparison to what her youngest daughter was going through. In February 2011, Kara-Tess Belanger was diagnosed with rhabdomyosarcoma, an extremely rare and fast-growing muscle cancer.
By the time she was 10 years old, Kara-Tess had endured 28 radiation treatments and surgeries for both chemotherapy and gastric feeding. During the first few months of treatment, Kara-Tess had also suffered a stroke. Known as Posterior Reversible Encephalopathy Syndrome (PRES), it was brought on by the multitude of drugs she was taking to prevent her organs from shutting down.
The disease and the aggressive treatment took their toll on Kara-Tess.  She lost her hair and any semblance of a normal childhood. Though still just a child herself, Kara-Tess also learned that she would never bear children. "That is one thing I know as women want and to have to go through that as a young girl, it's a lot," says Una.
The cancer started in Kara-Tess' mouth. "I knew something was wrong because she was constantly chewing things and spitting it out," recalls Una. "She didn't want to swallow because she said it felt like there was a chicken bone in her throat."
With the issue not immediately showing up in MRI and CT scans, it was only after a biopsy that the doctors confirmed it was cancerous. "The first few months, even after radiation I was hoping they made a mistake," says Una.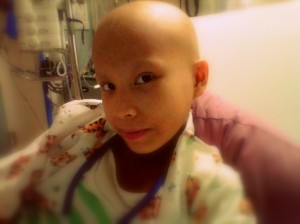 Kara-Tess is among the approximately 55 children diagnosed every year with rhabdomyosarcoma in Canada. "It's a more common cancer in children than in adults," says Dr. Yanofsky, Kara-Tess' pediatric oncologist at CancerCare Manitoba. "We treat all the Manitoba kids and some from northwestern Ontario and in Nunavut. We might have two new patients under the age of 17 per year with this type of cancer."
Rhabdomyosarcoma can continue to grow during treatment or return once treatment is finished. "For most cancers it's very different to cure if it comes back," says Dr. Yanofsky.
Kara-Tess is one of the first children to undergo a new experimental therapy known as Regimen B — a combination of chemotherapy, surgery and drugs.
Together, the illness and its treatment took a huge toll on an already stressed family. One sibling is epileptic and requires a lot of attention; another sibling struggled with the stress of  his sister's condition. "He was there right at the beginning," says Una. "He would stay up waiting a lot of the times."
Then there were the financial difficulties. Her father suffered depression that left him unable to work and Una underwent intestine surgery and she had to go on disability. The only positive news the family received during this difficult period was the time their older twin sons were both drafted to play for the University of Regina Rams football team.
Perhaps surprisingly, it was Kara-Tess who kept them all together, according to her mother. "She didn't let me cry," says Una.  She always said, 'Don't worry mom everything is going to be fine, I'm going to be okay.'"
Sure enough, in March 2012 the family received an answer to their prayers. "The doctor called and said she's fine," says Una. Since then, Kara-Tess has been regaining her strength, now weighing 98 lbs after dropping to a mere 66 lbs. Her hair is beginning to grow back and her feet and hand coordination are slowly returning.
Kara-Tess also returned to school in September 2012. But that has not been without its own challenges, says Una: "Kids would pull her hair off. They'd pull her wig or toque that she was wearing and she was called names."
But it seems the bullying has not slowed Kara-Tess down since her recovery. She has started a Facebook group called 'Help Me Fight My Cancer' dedicated to other children living with cancer. "She thought that was a good idea," says Una. "She always said 'Pray for others.'" Kara-Tess also recently took part in a fashion show fundraiser for the Canadian Breast Cancer Foundation.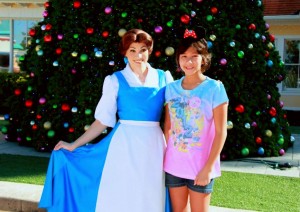 And then there's been those opportunities where Kara-Tess gets to just be a kid. The family recently took a trip to Disney World to celebrate courtesy of the Dream Factory, an organization dedicated to making dreams come true for children living with disease or other challenges.
But the family still lives with uncertainty. For the next ten years, Kara-Tess will go through a series of MRI and CT scans, testing for possible cancer cells.
"I try not to go there and think about it," admits Una. I'm just praying that it's gone."