Audiobook version of 'Midnight Sweatlodge' set to ship to crowdfunders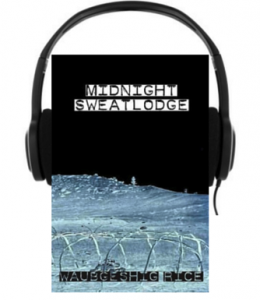 It took a few weeks longer than anticipated, but the audiobook version of Waubgeshig Rice's Midnight Sweatlodge is now a reality for its over 200 backers on Kickstarter.
Clocking in at around 2 hours, the four stories were performed by none other than yours truly over a number of late-night sessions at Precursor Productions in Winnipeg. Although the learning curve was unavoidably steep at times—this marks my official debut as an audiobook narrator (and producer, for that matter)—I have enjoyed every minute of it, and daresay I look forward to the next opportunity to take on another such project.
For folks who did not take part in last December's crowdfunder, you can now buy the audiobook on-line as a digital download.
Here's a sample (the book's preface):
Meantime, I encourage you to take a further listen to the artists who make up the audiobook's musical soundtrack (sourced via CC-BY licenses). Below are all the details (complete with links to the originating albums):
Music credits: Midnight Sweatlodge Audiobook

(Track: 'Song title' by Artist, Album)
1: 'erik' by Fog Lake, Virgo Indigo
2: 'transcanada' by Fog Lake, Virgo Indigo
3: 'Insomnia' (instrumental version) by Josh Woodward, Dirty Wings
4: 'Cien Volando' (instrumental version) by Josh Woodward, Dirty Wings
5: 'The End' by Spin Day, Spin Day And The Emotional Godfather
6: 'Lafayette' (instrumental version) by Josh Woodward, The Wake
7: 'I'm Letting Go' (instrumental version) by Josh Woodward, The Simple Life
8: 'The Last Slice of Pecan Pie' (instrumental version) by Josh Woodward, The Beautiful Machine
9: 'California Lullabye' (instrumental version) by Josh Woodward, The Beautiful Machine
[Note: None of the above tracks was featured in its entirety on this audiobook.]