AUDIO: Kim Anderson, "Life Stages and Native Women: Memory, Teachings and Story Medicine"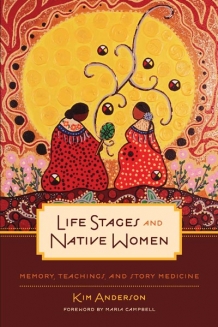 The power of stories to tell us who we are is well known, so to lose touch with your people's stories can lead to a void inside one's self — or even within a community as a whole.
I was reminded of this today on my radio show, Urban Nation LIVE, when I had the pleasure of speaking with Cree/Métis educator Dr. Kim Anderson about her efforts to gather and honour those restorative narratives in her latest book, Life Stages and Native Women: Memory, Teachings, and Story Medicine. (She's in Winnipeg today and tomorrow as part of Thin Air 2011, aka the Winnipeg International Writers Festival.)
Sharing the teachings of 14 elders across three cultures, the book is a collection of cultural and lived understandings of the roles and responsibilities of Indigenous women and girls, from pregnancy and birth through to puberty to death.
For those of you who may have missed its original airing, the interview is below.