AUDIO: Conversation with Executive Producer, "Free Leonard Peltier" CD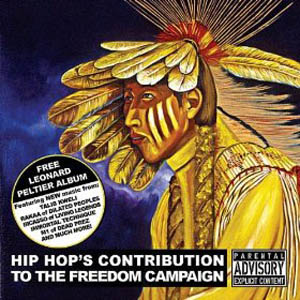 Regular MI visitors may or may not know that I now have a new 'day job,' as host/producer of Urban Nation LIVE, broadcast weekdays at 12 noon cst on STREETZ 104.7 FM here in Winnipeg. Playing nothing but Hip-hop and R&B, their mandate includes a 40% commitment to Aboriginal performers in these genres, making STREETZ the only station of its kind in the world as far as I know.
Here's how I describe the show:
Along with interviews about the artistry, industry and diversity of Hip-hop, URBAN NATION LIVE explores events and issues of interest to young people in the city, with special emphasis on urban Indigenous youth.
A long-time fan of hip-hop, it's exciting for me to see and hear how Aboriginal practitioners continue to make the art form their own and/or tap into the genre's power to convey their messages.
A related example of this fusion of Hip-hop and Aboriginal perspectives is a relatively new CD entitled "Free Leonard Peltier," released in support of the imprisoned American Indian Movement activist. Check out this interview I did with its Executive Producer, Aaron Mirmalek: