Aboriginal Athletes Competing (and Medaling) at 2010 Winter Paralympics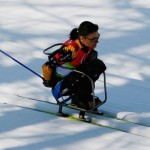 Following up on my post about the two indigenous competitors at the 2010 Winter Olympics, I wanted to highlight the fact that Canada's first medal of the Paralympic Games was earned by Saskatoon's Colette Bourgonje, who, says Indian Country Today, is the squad's "only aboriginal athlete."
On Sunday, Mar. 14, Bourgonje grabbed silver in the 10 kilometre Cross-country Sit-ski. She is a six-time Paralympian who adds the medal to the eight she's already won, reports the Vancouver Sun. In medaling at Whistler, Bourgonje's feat has the added distinction of making her "the first-ever Canadian to win a Paralympic medal on home snow." Rumour has it the 48-year-old (!) will retire after this season, capping off a sterling career.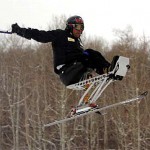 Like the Olympics, there are just two Aboriginal Paralympians this year, and, once again, the other competes for Team USA. He is Joe Tompkins, and his event is Downhill Sitting. His first test has been re-scheduled to Thursday, March 18, and he will be skiing fifth out of the gate. Tompkins is said to be of Tlingit descent.
If you're hoping to catch some coverage of the Paralympics, you can do so on-line at Paralympic Sport TV, but you'll have to install Microsoft's 'Silverlight' thingy first.
UPDATE: Well, it was not to be for Joe Tompkins. According to the Juneau Empire, he crashed "and received a DNF in his only event in the games." Tompkins "was upset [but] … not injured." As for the 2014 Games, the 41-year-old Tompkins wasn't sure "whether or not he will compete." In the meantime, he can savour his other recent accomplishments, namely, "Winning a couple of World Cup medals and winning the World Cup Globe this year."
[Images via ctvolympics.ca, juneauempire.com]