A Kickstarta for MEDIA INDIGENA!

Today, on behalf of MEDIA INDIGENA, I'm pleased to announce that we're breaking new ground for this site by jumping into the exciting world of crowdfunding!
Now, like many before it, this Kickstarter project has its roots in a road trip: in this case, a 16-hour mid-winter's return trek. Thankfully, three things made the miles fly by: nice conversation, great radio and an entertaining audiobook.
My family happily supplied the first; the second came by way of CBC's book battle royale, Canada Reads 2014, where a determined Wab Kinew championed The Orenda to victory. Meanwhile, the zestful voice(s) of SCTV alumna Andrea Martin brought a children's audiobook to life. Clearly, we did not suffer for lack of options that trip.
Yet it was precisely that wealth of words that sparked a sudden realization: with so many Aboriginal books now out there in print, why are the pickings so seemingly slim for audiobooks? It's a curious gap, one I'd like to help rectify — hopefully, with your backing.
Of course, it goes without saying that the most rewarding collaborations occur with someone we know and trust. That's why I'm so excited to partner up on this project with Anishinaabe writer and journalist Waubgeshig Rice. As long-time friends, it feels only fitting that Waub's debut novel Midnight Sweatlodge could mark my debut as an audiobook narrator.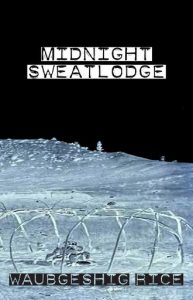 For those unfamiliar with this award-winning work (now in its second printing), let me whet your appetite: a collection of short stories all involving young Aboriginal people, Midnight explores the unique challenges that go with growing up Anishinaabe in contemporary Canada: isolation, depression, substance abuse and crises of identity. Anchoring these shared experiences, the sacred setting of the sweatlodge, where an elder opens young eyes to the old ways, and hearts to healing. A chronicle weaving together stories of the next generation, readers of Midnight get to walk alongside its characters as disparate journeys converge on a path toward cultural reawakening.
Now, of course, I do acknowledge that the realm of read-aloud works is not utterly devoid of Aboriginal content: a few authors like Louise Erdrich, Sherman Alexie and the aforementioned Mr. Boyden have heard their words rendered as audiobooks. [UPDATE: Thanks to Wayne Arthurson for gently informing me of two other Indigenous audiobooks: his own!  Thanks too for his kind and gracious support of this project!] But that leaves plenty of titles ripe for the recording, and with the market for such sounds seemingly insatiable, I'd love to help introduce that audience to an even wider world of Indigenous voices and stories. With your backing, we can make that happen!