PODCAST: One-on-One with "Clearing The Plains" Author James Daschuk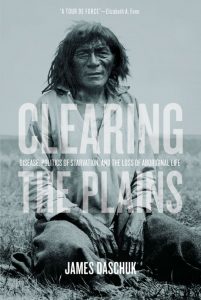 For a book that began as a PhD thesis, the level of success it's achieved since last year's release has taken many—even the author—by surprise.
Published in Spring 2013, Clearing the Plains: Disease, Politics of Starvation, and the Loss of Aboriginal Life has garnered University of Regina historian James Daschuk both attention and awards. And it was thanks to the latter — he was in town to receive a Governor General's history prize — that I had the recent opportunity to sit down with Daschuk in Ottawa, at an event organized by one of the city's oldest independent booksellers, Octopus Books.
Described as a historical investigation into "the roles that Old World diseases, climate, and, most disturbingly, Canadian politics—the politics of ethnocide—played in the deaths and subjugation of thousands of Aboriginal people in the realization of Sir John A. Macdonald's "National Dream" in the late 1800s, the book details the often nightmarish existence led by first peoples on the plains at the time.
Here's the trailer:
And yet, grim as this story is, I found its author exceedingly approachable and accessible: James seems genuinely humbled by the book's positive reception, among Indigenous and non-Indigenous readers alike.
That is why I am pleased to make James Daschuk's Clearing the Plains the subject of MEDIA INDIGENA's first podcast, hopefully just one of many to come. Love to know what you think.
MUSIC (Intro): "CGI Snake," by Chris Zabriskie