Videos tell women's stories of intergenerational impacts of Indian Residential Schools
It has been a long time since I've contributed to MEDIA INDIGENA, but I don't feel bad because I've been busy with another Indigenous, insightful and innovative project: kiskino mâto tapanâsk: Intergenerational Effects on Professional First Nations Women Whose Mothers are Residential School Survivors.
This Prairie Women's Health Centre of Excellence initiative set out to understand how the residential school legacy has been passed down through generations of First Nations women. Through a process of personal and collective exploration, each participant artfully created a 2-to-5 minute digital story.
The videos offer profound insights into mother/daughter relationships and the complex intergenerational effects of these schools. They also birth hope, showcase resilience, and speak to the emotional and healing journeys of First Nations women.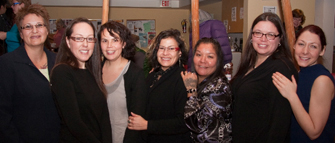 Pictured above are the filmmakers, including (from left-to-right) Lisa Murdock, Roberta Stout (myself), Lorena Fontaine, Wendy McNab, Claudette Michell and Lisa Forbes (along with researcher Sheryl Peters). Our mothers were interned at Birtle, Blue Quills, Elk Horn, Lebret, Prince Albert, St. Alban's, St. Henry's Mission, Sturgeon Landing, Guy Hill and St. Joseph's Roman Catholic residential schools.
All of the videos are available for viewing on the Centre's website.