Tribute: Dr. Patricia Monture (1958-2010)
I first met Patricia Monture at the University of Western Ontario in 1979. She was taking anthropology and other courses for a B.A.. I was in the one-year Program in Journalism for Native Peoples (PJNP). She was Mohawk from Grand River Territory near Brantford; I was Kanienkeha:ka (Mohawk) from Kanehsatà:ke Territory near Montreal. We both preferred to call ourselves Haudenosaunee and hated generic terms like "Aboriginal."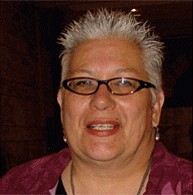 She passed away about three weeks ago. I only just found out thanks to a Globe and Mail obituary. The writer captures Patricia's stubborn determination. When she'd made up her mind that she was right — step back or get hurt. She was right a lot of times.
My fondest memory, one that I mangled for her son when he came to Kanehsatà:ke this summer (a clumsy attempt on my part to let him know how much I respected his mother), was about the time we stomped out of class in protest.
It was anthropology to her; Canadian history to me. No matter. The point was that we sat there for a few classes with steam slowly building within. We began asking questions about the course content. We began to challenge the prof because we didn't see our reality reflected. In fact, we were getting angrier with each class and reading assignment because we felt most of the material not only excluded what we knew as fact but also twisted it to fit some really old stereotypes.
It wasn't long before she was agitating, organizing other Indigenous students on campus, including my cohorts over at the PJNP. As planned, we walked into class. We sat quietly, not asking questions or challenging the prof this time. He'd made it abundantly clear by then that he and his material were right and we were absolutely wrong. Period.
When Patricia raised her hand to question one of his statements, we expected the prof's reaction. He refused to answer or acknowledge her. Patricia then said: "We quit." With that, we got up. So did about 14 others, Indigenous students all. We walked out quietly, turning our backs to the stunned prof and 70 or so mostly White students.
The Dean of journalism, Peter Desbarats, came down to meet with the PJNP rebels. We lived in the basement while the non-native journalism program had the upper floors. We developed attitude down there; the dead-end kids who didn't take crap from nobody. Would we reconsider, Desbarats asked? Would we go back to that class? No, we replied. We could all be penalized, he added. We could all fail. It might kill the PJNP. Well, he asked? One last chance.
We got a couple of new professors, much better classes, more up-to-date material that actually respected and explored our perspectives.  I know we got a much better education by sticking to our principles, refusing to cave in to pressure, even threats and intimidation. I didn't have to wonder why we did it. I could sum it up in one word: Patricia. She was the backbone of our little rebellion; its heart and soul. She was right. She knew it. Most importantly, she made us know it too.  But it wouldn't have happened if she hadn't acted just like a Mohawk woman.
skennen (peace)