Snatching the People's Purse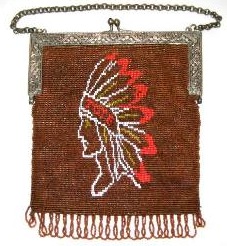 The 500 or so people living on the Mosquito (Grizzly Bear's Head) reserve in central Saskatchewan are undergoing some introspective times.  This past spring, the chief and a councillor from the band office were charged with fraud and breach of trust as part of a 5-year investigation into the (mis)management of their people's Treaty Land Entitlement (TLE) money.  Three former trustees were also charged.
And just last week, two of those TLE trustees pleaded guilty.  Eldon Starchief, 53, and Alphonse Moosomin, 68, will return to court on Oct. 22, 2010. Meantime, Gerald Arthur Bird, 57, and councillor Clifford Lawrence Spyglass, 47, will get their first court hearing on September 8. Chief Clarence Stone, also 57, will similarly face charges of both fraud and theft for over five-thousand dollars. We don't yet know whether the alleged theft and fraud involved $5001 or $50,001 or even more. The charge just says "over 5-thousand dollars." It's described as a "criminal breach of trust."
On paper, the band had a sizable sum of TLE money to fiddle with — $9.6 million, in fact — their portion of a much larger purse set up in 1992 for compensating up to 33 Saskatchewan bands for lands that were, umm, shall we say, 'taken over' by Canada.
The TLE agreement put those millions in trust so the band could acquire additional land and assist in economic development projects for the people. This money wasn't a 'handout,' it was the payout for lands lost in 1878 when then-Chief Misketo signed on to Treaty 6.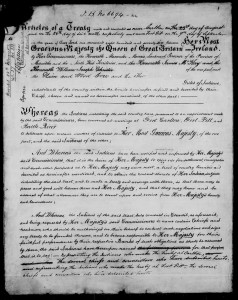 (As an aside, what Chief Misketo got for his people was 31,680 acres of land; what the other side, i.e., Canada, got for its people was a much larger land-mass that the local Nakota-Cree people were promptly informed was no longer theirs. These territories included the land at the edge of Battleford, used by the Northwest Mounted Police to erect a fort.  The town was made the capital of the then-Northwest Territories at roughly the same time.)
Fast forward to 2005, when police launch an investigation into how current Mosquito Chief Clarence Stone and his council are handling their First Nation's TLE money.
A cursory search reveals the band is a member of the Battlefords Tribal Council, an agency that represents at least 7 different reserve communities.  The BTC website says its role is to provide advisory services
in the areas of Financial Management, Administration, Education, Community Planning and Economic Development … in a professional, efficient and effective manner with the needs of the First Nations and their members as the primary focus.
Either we're forced to assume the Tribal Council's advice was highly unusual in Mosquito's case, or that some of the chief and council weren't listening very carefully to what BTC had to say.
The police investigation revealed problems dating back to 2002. A little digging and four other names pop up.  So charges have been laid with, as I mentioned, two of the accused pleading guilty so far. Trials for the remaining three have yet to take place, but the feedback this past week has been all about how wrong-doing might have been anticipated.
The assumption in many communities has become that councils and chiefs are corrupt.  It's the view from outside and often from inside. Still, it's not much different from the realm of non-Aboriginal governance at the federal, provincial and municipal levels.  We hear all the time about how The New Guy is going to clean things up, put an end to trough-feeding, or other egregious wrongs. Does anyone believe this anymore? Experience seems to suggest otherwise.  But just in case … keep a good thought.
[ Image of purse via pursestreet.com; of treaty via museevirtuel-virtualmuseum.ca ]