No, Canada.
Ever have one of those nights where you can't believe what you just saw and you're steamed about it, but you know saying so won't make a nickel's worth of difference because apparently it IS true – ignorance IS bliss?
I'm talking about the bizarre distortions of the real world that keep popping up.  Some of them amazing.  Some of them sickening.  Some of them just so offensive in so many ways you just want to start a bonfire with the notes taken at the meeting where the idea was discussed and agreed to.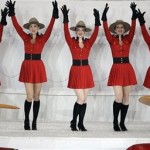 Somehow, somewhere, someone decided it was was ok  to make this public offering at the closing of the Olympic Games in Vancouver.   Yup.  Dancing constables in red serge.
It's one of those all-inclusive efforts where you get to insult the police, women, and the intelligence of both genders at the same time.
Who let this fetishism for sexualizing a police uniform pass as something entertaining at a competitive sports meet for women and men?   Where was the shot of all those powerful  female speed skaters wincing at the demeaning portrayal of women who work in law enforcement?  Dancing girl mounties alongside giant blow up boy mounties and moose.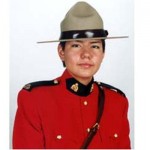 Where would Constable Robin Cameron have fit into that picture?
Oh Canada.  You make it hard to feel at home on so many levels.