More on why missing & murdered Aboriginal women are not considered "newsworthy"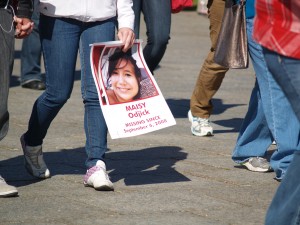 In yesterday's post, we told you about new research that takes a critical look at differences in news coverage of Aboriginal women and non-Aboriginal women who are missing/murdered.
Kristen Gilchrist examined six such cases falling between the years of 2003–2005. Three of the women were of Aboriginal descent, three were not. Her research reveals sharp contrasts in coverage between the two groups.
We asked Gilchrist to talk more about her methodology, her take on mainstream newsrooms, and what they should do to remedy this apparent gap in media attention.
How did you go about choosing your six cases and why?
A lot of the time, we hear, 'The women in the Downtown Eastside were sex trade workers, prostitutes or drug addicts, so what do you expect?'
The media is not going to cover it the same. I wanted to select cases where we couldn't fall back on the same stereotypes as the Aboriginal women being irresponsible, or they're runaways, or they're drug addicts. I really wanted to be able to call them 'respectable.' All these women were deeply tied to families, they all had jobs, they were in school, or had all of these qualities we would expect from the representation of the 'good white woman.'
In your paper you talked about 'newsmaking' and 'newsworthiness.' What do you think needs to happen in mainstream newsrooms when it comes to handling stories about missing/murdered Aboriginal women?
I think we need to really start breaking down and looking at this denial that there is something going on. When we talk about news production or news readiness, a lot of it is based on the value judgments that are made by editors or journalists about what their readers want to know about. There is a political decision at play here.
The framework of mainstream media also needs to be considered as, most often, it is made up predominantly of the white, male, and middle-class, hanging onto this colonial myth that Canada is this equal place. Will mainstream media ever get to a point of critically thinking about the socio-historical or colonial contexts?
How do you think the media is going to react to your research?
I never considered what might be the media's reaction to my research. I do suspect if any, it will be similar to racial profiling. Their position will be: 'We are not a racist organization, we have women staffers, or we have an Aboriginal person on staff within this mainstream media organization' — it is typical stuff I expect to see and, that is, to negate the weight of it.
Despite this, I recognize, since the time I submitted my research, I notice there has been a huge shift, a positive shift in the amount of coverage. We are seeing a more compassionate portrayal of Aboriginal women now.
In your research you question whether the lack of coverage creates inattention by police to the victimization of Aboriginal women. Do you believe this to be true?
It's more an anecdotal statement, but I feel these things are interlinked. The police rely on the media for help in their cases. They will draw on the media as an investigative tool.
For instance, if the police are saying, 'This is a case we really need to investigate,' and the media is saying that, then the public certainly gets that message. I think that really plays into the mobilizing of public responses; the public are engaged in searches themselves. They are outraged and writing letters to the editors, talking amongst themselves, to their friends, about these issues. Yet when it comes to the Aboriginal women who have gone missing, the police are not taking these issues serious enough.
What's next for you?
My research has shifted slightly. I am still looking at missing and murdered women but now exploring it in a more positive way. I am taking the approach of looking at the movement, the activism that is taking place within the communities, at the social and government levels. For instance, how far have we come since Sisters in Spirit started to the release of the Amnesty report.
Gilchrist expects to complete the research for her PhD by December 2011. For more information, she can be reached at gilchri@connect.carleton.ca.