Missing / Murdered Aboriginal Women: is it up to the public to call an inquiry?
For years, First Nations families, organizations and leaders have called on the federal government to hold a national inquiry into missing and murdered First Nations women and girls in Canada.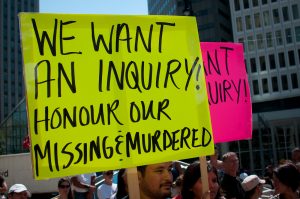 Since the 1960s, over 700 First Nations women and girls have gone missing or died of violence.
Bridget Tolley believes the number of cases is actually over one thousand. She's the co-creator of Families of Sisters in Spirit, a grassroots organization that helps the relatives of victims.
Despite public outcry over these numbers, Prime Minister Stephen Harper has given no indication Canada will begin any inquiry process.
This comes as no surprise to the newly elected president of the Native Women's Association of Canada, Michelle Audette.
"There's the financial aspect of a national inquiry and a denial aspect that I see from them," she says. "They're afraid that if we do have a national inquiry it will reveal the immediate needs of Aboriginal women."
Hayden King is an assistant professor at Toronto's Ryerson University. He believes there are other reasons. "[It is] for the same reasons police don't investigate the disappearances, and the media doesn't cover violence against Native women," says King. "A stereotype-inspired apathy that perpetuates the problem and ensures it isn't properly addressed."
Among the loudest voices calling for an inquiry is NDP MP Niki Ashton. She finds the government's resistance perplexing.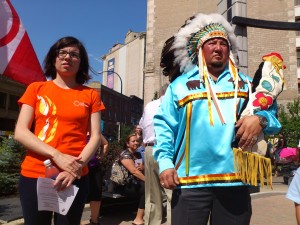 "This government talks a lot about victims," she says. But, according to Ashton, when it comes to First Nation victims, "they (the government) are nowhere to be found. If the government is not willing to be part of the solution, then they are part of the problem."
But according to the Department of Justice, the government is doing all that it can.
In a statement, the Department says the "government attaches great importance and urgency to addressing the issue of missing and murdered Aboriginal women." The Department goes on to say it has committed $25 million over the last five years to the issue. It is also currently taking action to prevent and reduce violence and improve community safety.
Audette, meanwhile, intends to crank it up a notch.
"I'll be planning for something more official between NWAC and the Assembly of First Nations," says Audette. Both organizations are planning a two-day summit on the issue of violence against women, to be held early next year.
NWAC also intends to complete a "national plan of action," one it launched in 2010 with Status of Women Canada in order to address violence against women and girls. The Association also just released an online petition calling for a national inquiry, which will be presented to the federal government.
Canada "not the best place" to live for Aboriginal women
"The reality is, if you're an Aboriginal woman in Canada, it is not the best place in the world to live in," says Cheryl Maloney, president of the Nova Scotia Native Women's Association. "I think we need a national inquiry because what we have now is not helping or making an impact."
According to the Inquiries Act — the federal legislation which regulates inquiries — in order for a national inquiry to take place, it needs the blessing of the federal cabinet or Canadian government.
But Katherine Hensel, a Sewecpemc lawyer and former Assistant Commission Counsel for the Ipperwash Inquiry, doesn't think that will happen anytime soon. "Once you start a public inquiry, it's going to be expensive, it's going to be time-consuming, and maybe an embarrassment to police and government."
Hensel says the Canadian public still don't know enough about the growing number of Aboriginal women and girls disappearing and being killed.
"Canadians have to push for it and make it clear to the government that it's in the government's political best interest to take this really drastic and very expensive step to prevent further tragedy."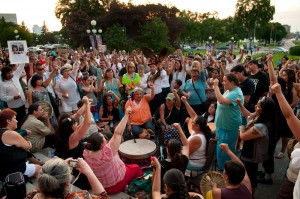 But even if a national inquiry were held, what would be the ultimate outcome?
"The findings of public inquiries are not binding. Nobody is held liable, either civil or criminally," explains Hensel. "But I think Canada has a long history with inquiries and Royal Commissions, having tremendous effects through that process. The downside is, sometimes no matter how good the recommendations are, they might not be followed by the government."
The same conclusion could be applied to the current United Nations inquiry (launched last year) into the issue of missing and murdered Aboriginal women and girls.
"Canada has a long tradition of ignoring UN recommendations, declarations, edicts and its own binding obligations within the UN when it comes to Indigenous peoples," says Hensel. "UN processes haven't had a tremendous impact here."
Photos courtesy of Aaron Pierre: www.aaronpierre.com