Louisiana Tribe Fears the Worst as Gulf of Mexico Oil Spill Reaches Coast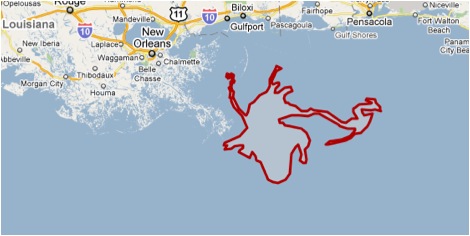 The Chief of the Point-au-Chien Tribe of Biloxi-Chitimacha Indians is keeping a nervous eye on his community after news that oil from a massive spill has reached the coast of Louisiana.
Pointe-au-Chien is about an hour and a half's drive southwest of New Orleans, LA. Chief Charles "Chuckie" Verdin told mediaINDIGENA in a phone call this afternoon that almost 80% of his over 700 community members rely on fishing for their livelihoods.
Point-au-Chien is still feeling the effects of Hurricane Katrina and if the oil spill can't be contained, he says, the effect on his community will be devastating.
Trying to predict exactly where and how far the spill will go is still a guessing game.
The National Oceanic and Atmospheric Administration (NOAA) has been releasing regular trajectory maps, the latest of which show a potential for the oil to spread westerly toward Point-au-Chien.
Meanwhile, other media and public sources have attempted to use the web to try and convey the scope, scale and course of the oil spill: Louisiana Bucket Brigade, Google Crisis Response and Nola.com.