Inuit innovator pursues his own musical 'M.O.'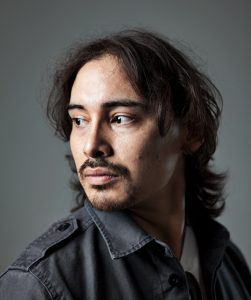 A spoken word performance for former Governor General Michaëlle Jean has turned into a new hip-hop career for an Inuit artist — he rapped, she liked it, and he's been going strong ever since.
Mosha Folger (aka M.O.) is the son of an Inuk mother and Brooklynite father. With his two younger sisters, he was raised in both Iqaluit and North Vancouver.
He says turning to hip-hop was an easy and natural progression from spoken word. He simply placed beats under his writing.
Just a few years later and Mosha is releasing his second album, String Games. A duo effort with west-coast rapper Geothermal MC, it's a highly-anticipated follow-up to his first album Eskimocentricity, which he released in 2009.
Mosha says he raps about issues that are close to him: identity, northern politics and suicide.
"My writing has been generally infused with my being half-breed," he says. "I have always struggled in my life with this."
Moving from a "very Inuit environment" to a large urban environment, Mosha says he felt "slightly different" from his peers.
"It became a struggle about how to be the only Inuk kid," he notes. "The only way to do it in that environment was to try to fit in." He focused more on extra-curricular activities like wrestling than his Inuit identity.
"Every year I would attend my Social Studies class and do a fifteen minute presentation on the Inuit, and that was my connection to my culture."
But by the end of high school, he began to acknowledge his identity, despite feelings of being 'too southern.'
Mosha says his music pushes the cultural and identity norms of what it means to be Inuit — even though he admits it might offend some, including Inuit elders.
String Games features Mohawk songstress Kinnie Star on the track, 'Muskox', which deals with suicide. Other special guests on the album include 'Whitey,' 'Shanuna,' 'Hyper T,' 'Scractch' and 'Ritallin.'
Aside from his music, Mosha is currently filming a short documentary called Anaana (the Inuktitut word for mother). It tells the story of his mother's formative years at Fort Smith Indian Residential School in the Northwest Territories, near the Alberta border. It's a personal account of the so-called 'intergenerational effects' residential school had on him as a child and to this day as an adult: "Something that happened to her at 13 is affecting me at 30," he says.
Sadly, like so many others, Mosha's mother experienced abuses of all kinds. "She had a lot of things to deal with, so she drank. She died because of it, at barely 41 years old," he says.
Mosha says he spent years trying to figure out what he did to cause his mother to leave, even though when was she was around she was often abusive. "She didn't know how to deal with having a child. I never [had] a mother".
Still dealing with this abandonment, he says it's slowly starting to become easier for him. A parent himself from his first marriage, Mosha is learning how to be a good parent.
He shares his passion of spoken word and hip-hop by facilitating workshops to Inuit, First Nations and Métis youth at Tungasuvvingat Inuit, the Ottawa Inuit Children's Centre and at the Wabano Centre for Aboriginal Health.
He will also be heading to Inuvik to promote String Games and to facilitate more workshops. And this past March, he presented at the 10th anniversary New Sun Conference on Aboriginal Arts at Ottawa's Carleton University, a conference dedicated to promoting artists, affirming contemporary Indigenous experience and increasing cross-cultural understanding — topics Mosha can practically rhyme in his sleep.