Innovate, Adapt, Engage: Anishinaabe in Global Context
The following is the first in a series of graduate student writings to emerge from the partnership between MEDIA INDIGENA and the #UMNATV Colloquium series. Kicking things off, University of Manitoba Native Studies Masters student Janice Bone shares her reflections following a presentation by journalist Wab Kinew.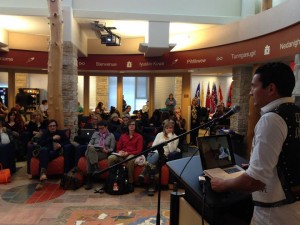 A household name who recently defended The Orenda on CBC Radio's Canada Reads, Wab Kinew needs no introduction. He has been everything from a hip hop artist to Director of Indigenous Inclusion to a father and he brought this all to our #UMNATV colloquium in January of this year.
Kinew's talk, entitled "The 8th Fire: Anishinaabe in Global Context," played to a full crowd at Migizii Agamik at the University of Manitoba. Speaking about his correspondent work with Al Jazeera America — and specifically his run-in with former Secretary of State Donald Rumsfield over those imprisoned at Guatanamo Bay — Kinew's presentation began with, then wove in and out of, a number of Ojibway words to convey the worldview contained within Indigenous languages. He specifically discussed the phrase "Aandi Wenjiiyaan" (where am I from), elaborating on how working in different countries has made him look at himself, his identity, and his culture.
Kinew asked: What does it mean to be Indigenous, and when does this stop and begin? How does someone maintain being Anishinaabe when you're no longer physically in the area where you are from? For instance, if you are on a plane flying to another people's lands, when do you stop being Indigenous and start being an immigrant? How does one experience an affinity to Indigenous people when one is in this complicated position?
To answer some of these questions, Kinew broke down the word Anishinaabe and how it was taught to him: "Anishaa" meaning nothing, and "nabe" meaning man. "A 'nothing' man is a lesson of humility," he remarked, "a reminder of our place in universe." It's to be continually thinking of yourself as humble and learning, always in process. Kinew then cited the ideas of Leroy Little Bear, saying "flux is the nature of Indigenous universe."
We can turn to language, Kinew argued, to illustrate how we are always making ourselves and our cultures. He identified how linguists utilize the suffix "–win" at the end of words to make nouns into verbs. He also identifies how movements towards pan-Indian struggles — while worthy of critique — can show how political strategies of community-building and identity formation are necessary in certain contexts. He directed the audience to look to critics like Dr. Taiaiake Alfred, who often dissects the usefulness of both perspectives.
Kinew stated many social ills within our communities are not solely the result of legal, political, and economic oppression but also emerge out of a spiritual crisis. Turning to the gifts of our ancestors and communities can offer a way of seeing the world in a continual system of relationships, a constantly producing and re-producing spiritual family.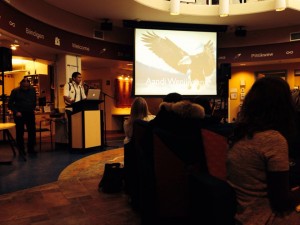 He concluded with a colourful story about how youth need to be encouraged to see beyond their immediate contexts, what he called "beyond the reserve."
Kinew argued that no one needs to lose an identity to participate in a global competitive market because Indigenous cultures are innovative, fluid, and adaptive.