Headline says it all: "Wilma Mankiller, women's rights heroine, walks on"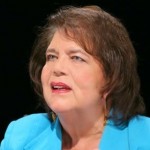 Read about her passing on Indian Country Today.
On its Twitter page, ICT also suggests you check out a discussion of her life and legacy on NPR Radio (note: it starts about a third of the way through, so don't be thrown off at the beginning).
And last but not least, you can watch her full-length interview with OETA, The Oklahoma Network.
[Image via NewsOK.com]