Channeling the Warrior Spirit
Chase King says the principle that guides him is simple. "Pretty much all Anishinaabeg people are tough and have a warrior spirit within," he says from his home in Barrie, Ontario. "This spirit helps me to focus on my training and fight with intelligence, but most of all, with respect."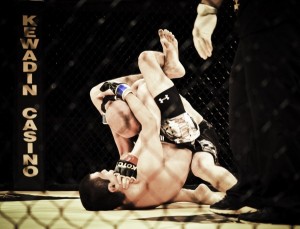 Originally from the community of Chimnissing (Beausoleil First Nation) on Christian Island, the 19-year-old is a rising force in Ontario's mixed martial arts circuit. With an amateur fight record of two wins and no losses, King says the disciplines that provide the foundation of the sport keep him grounded and have inspired him to pursue a full-time career within it. "The most I get out of this sport is the exhilarating feeling I get when I train hard," he says. "Hard work and determination will pay off."
It's a passion that's proving contagious and addictive. MMA is widely regarded as the fastest growing sport in North America, but it's becoming especially popular amongst Indigenous youth across the continent. Gyms in cities like Toronto, Winnipeg, and Regina are seeing more and more First Nations, Metis, and Inuit youth signing up for Brazilian Jiu-Jitsu and Muay Thai kickboxing classes, among others.
King got his start in jiu-jitsu at 14. His parents would drive him from his island community to Barrie (about an hour's drive) up to four times a week to train. He developed a knack for grappling early on, and soon he was expanding his martial arts repertoire to kickboxing. He says learning all aspects of mixed martial arts is a natural fit for Aboriginal youth looking to stay active.
"Really, any sport is good, because training your discipline gives you focus and determination," he says. "But MMA is a lot different than any other sport. It will teach discipline, respect, and motivation to perform your best at everything you do. This sport is a very good option to keep young people away from negative things and keep them with positive things and positive people."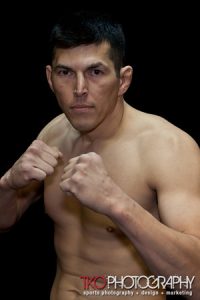 Veteran MMA fighter Chris Stranger agrees. "This sport keeps me sharp, it keeps me healthy, and it's helped me achieve a lot of goals," he says from his Winnipeg home. The 38-year-old Anishinaabe originally from Peguis First Nation, Manitoba has a professional record of five wins, two losses, and a draw. When he's not training for his own fights, he holds MMA seminars for Winnipeg youth in his home gym. He also travels to First Nations in northern Manitoba to introduce young people there to the sport's essentials.
"I try to show them that this is the best way to live – clean and healthy," Stranger says. "I don't drink, I don't do drugs, I don't smoke. Training is a healthy high." He believes that goes hand-in-hand with the traditional Anishinaabe "ogichidaa" – or warrior – role: protecting those around you while serving with respect and discipline. When walking out for fights, Stranger wears some of his traditional powwow dancing regalia.
"A lot of Indian guys like fighting," he says. "They just need the proper training, proper skill, and proper attitude. The right MMA teachers can really change your life in a positive way. When I fight, it's a rush. It's a good feeling, hard to explain. Nervous, scared, and excited all at the same time."
Still, he recommends young people getting into MMA supplement their training with getting their education and making sure they can establish a career post-fighting. As for King, he plans on moving to Burlington, Ontario to train full-time at the Tap Out centre. His next fight is at the end of November at an event in Pennsylvania. He eventually wants to be a full-time MMA instructor at his own gym, catering specifically to First Nations youth.
"If anyone started MMA because they were inspired by me, I would be really honoured and humbled," he says. "Being an inspiration to youth to lead a positive and healthy lifestyle is something that I would consider one of my greatest accomplishments.
"This journey has taught me respect. Respect for your training partners and everyone in general," he reflects. "It has changed my life completely, to where I know what I want to be in life and what I have to do to achieve my dreams."