Canada gets instant reminder of what signing United Nations Declaration supposed to mean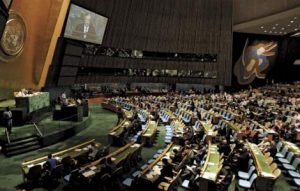 As reported in Wawatay News, Canada has endorsed the United Nations Declaration on the Rights of Indigenous Peoples (UNDRIP) "in a manner, it says, is consistent with Canada's Constitution and laws." Although non-binding, the 46-article Declaration is nonetheless held up as a significant and meaningful standard by which to judge Canada's treatment of, and conduct toward, Indigenous peoples within its borders.
And just to make sure Canada has a good solid idea of what that means, Sharon McIvor is about to file suit against the country for the way it "discriminates against Aboriginal women when it comes to granting Indian status," reports the Toronto Sun. After winning her case in BC's highest court, the feds put forth Bill C-3 as its response, but MacIvor argues this "partial and inadequate" legislation doesn't go nearly far enough in ensuring all First Nations women can pass on status to their children:
Because neither Canadian courts nor Parliament have yet granted an adequate and effective remedy for the sex discrimination which has been a hallmark of the Indian Act for more than a hundred years, I will take my case to the United Nations Human Rights Committee."
Ya gotta love her timing, eh?