Any illusions of credibility for "sham" Missing Women Inquiry fade as Aboriginal rep resigns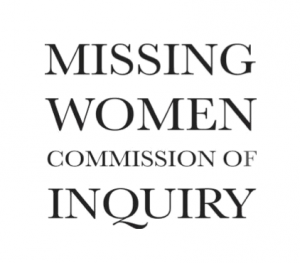 For lawyer Robyn Gervais, it was a case of 'enough is enough.'
Appointed as the legal representative for Aboriginal interests as part of the B.C. Missing Women Commission of Inquiry into the atrocities of a serial killer in Vancouver's downtown east side, Gervais has just announced she is stepping down. Gervais says it had become clear to her that Aboriginal interests were not being taken seriously at the Inquiry.
Increasingly labelled a "sham" by its critics, whatever illusions of credibility this Inquiry may have once enjoyed have by now completely disappeared.
Gervais was appointed after the provincial government denied funding for legal representation that would have allowed the participation of organizations from the downtown east side and Indigenous groups and individuals who worked closely with the murdered women. (Police, meanwhile, were automatically provided publicly-funded legal counsel.) Lacking community support for her role, Gervais indicated that she was not able to fulfill her mandate to represent Aboriginal interests at the Inquiry. Indigenous, sex worker and downtown east side stakeholders denied equal standing in the process have largely chosen to expose the Inquiry as a sham. Overall, Indigenous voices have been confined to a handful of the victims' family members, as well as a small number of 'experts.'
Gervais' departure highlights a central tension over the focus of the Inquiry: is it about the lives and deaths of missing and murdered women (the majority of whom were Indigenous) or is it about police action (and inaction)?
It might have been possible for the Inquiry to investigate both of these things, as they are so clearly linked through the relationship between police as officers of the law and Indigenous women as marginalized or abandoned legal subjects. The relationship between police neglect and Indigenous suffering is a long-standing legacy of colonialism in Canada, one which continues to manifest most acutely in the bodies of Indigenous sex workers who are criminalized or overlooked by police.
But in order for Indigenous women to have a voice at the Inquiry, it would seem necessary for Indigenous people to have equal standing with police and other participants. Any hope for this was lost months ago, as it became clear that the role of racism and colonialism would not be taken seriously, despite the vast over-representation of Indigenous women among the 49 victims Pickton confessed to killing.
The myth of law as authoritative and neutral is being upheld in police discourse heard throughout the courtroom, as panelists continue to deny that racism was a factor. Indeed, some police continue to point the finger at 'society' for causing these mass murders. Surely, law and the work of police should be regarded as integral parts of society. These myths could easily be dispelled if Indigenous women themselves were able to speak about their treatment by police, among other life experiences; silencing Indigenous voices, therefore, ensures that only one side of the story is told — the side in which power resides.
It is important to recognize that, for the family members of murdered women who were given a space at the Inquiry, the process may be positive. They may come away from the hearings feeling good about speaking their truth. But so many others have been denied a voice in the truth-telling process.
While police have been able to represent their interests at the Inquiry, with 24 publicly funded lawyers present to represent individual police officers, Indigenous communities and organizations have not been heard. Instead, a small number of 'experts' have been allowed to testify as to the historical factors which lead to the overrepresentation of Indigenous women in the downtown east side. While 42 days of police evidence have been permitted, scheduling issues were used as an excuse for silencing Indigenous voices: Gervais was told that Indigenous representatives could find a voice outside of the Inquiry itself, in a less formal venue. The marginalization could not be clearer.
Where are the voices of sex workers themselves in this process? Where are the voices of Indigenous people who live with the impact of police negligence and criminalization on a daily basis? Where are the diversity of experiences and wealth of knowledge that could be provided by those people living in the downtown east side? It seems the 'justice' system is not able to accommodate these voices, and instead only police and a small number of family members and 'Indigenous experts' have been authorized to speak.
The clock is ticking for commissioner Wally Oppal, who must release a report by June 30. It seems unlikely that he will report the truth of this Inquiry: that downtown east side and Indigenous voices were omitted from the process. In a legal system where the word 'justice' has little meaning for Indigenous people, this comes as no surprise.
It is hoped by some that a United Nations investigation into the national scale of violence against Indigenous women will hold the Canadian government and legal system to account. I would speculate that a UN investigation would reveal the systemic inequities that have shut Indigenous voices out of the Missing Women Inquiry are the common thread running through police and justice systems which continue to perpetuate violence against Indigenous women.
How then do we begin to define accountability, beyond the release of another report that has no legal enforcement mechanism? As Indigenous women continue to go missing, what can we do to redefine accountability and justice? These are serious questions that all Canadians must consider, as it is individual Canadians who serve as the police, judges, and politicians that make up the legal system. Just as it is individual Canadians who continue to perpetuate violence against Indigenous women, or who turn a blind eye to realities of violence around them. Law and justice are not just defined in the courtroom, but on the streets and in our homes, and the spaces we all occupy in neo-colonial Canada.