Aboriginal Photojournalist Possibly Among Detainees at G20 Protest: Whereabouts Remain Unclear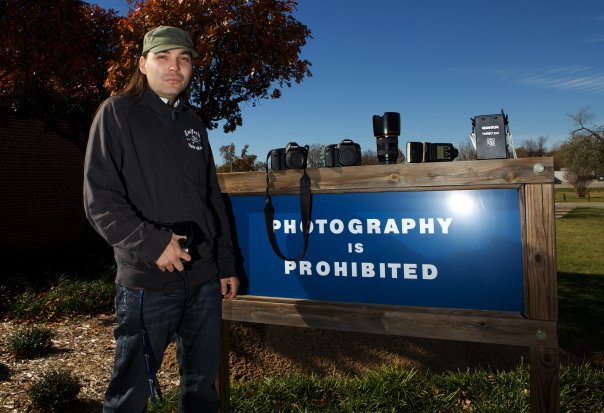 In one of our most recent blog posts, we showcased the work of Winnipeg-based photographer Scott Stephens (seen above), who is in Toronto to document the G20 / G8 protests.
However, since receiving his large collection of photos, we have neither heard from nor been able to reach him at all. Up until then, such communication had not been an issue, and the silence has left us feeling uneasy, as echoed in this message from a mutual acquaintance, received this evening:
We've been texting and calling him all day. No word. I am certain he was detained at the rally last night. He's been in steady contact with me all weekend. We protested at the detention centre earlier today for them to release the over 600 people but they were letting very few people out. More were getting arrested this evening. It's an ugly scene here in Toronto. Very worried about him.
It seems fairly reasonable to speculate that Stephens is among the hundreds of people (604 to be exact, reports the CBC; so does the Globe & Mail) detained by police, who have received extraordinary (albeit temporary) powers for the zone that runs "along the border of the G20 security fence" taking up a portion of Toronto's downtown core, reports CBC and the Toronto Star.
The Toronto Media Co-op reported today that
About a dozen prisoners were released one by one at odd times from about 3 PM. The crowd, by this time about 50 people, cheered as they walked across the street, many in socks since their shoes have been confiscated. Someone made a large box of sandwiches and people lent their phones to the newly released prisoners.  They told press that they had been held without phone calls, and not been given water for the first five hours.
If he was indeed among the detainees, Stephens would likely have lost use of his phone. With just 12 people released so far, that means well over 95% of the people being held in the 'protesters prison' remain in police custody.
In any event, anyone with news of Scott Stephens' immediate whereabouts is encouraged to contact us.
UPDATE: Literally minutes after publishing this post, the man himself texted us to confirm that he had indeed been detained by police overnight and had just been released as of apx. 11:15 pm ET.