Aboriginal Journalists Assemble!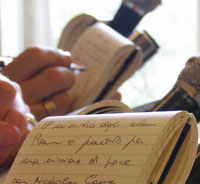 Ho-leh, the Canadian media world is getting browner and browner these days.
Or so it seems to me. From print to radio to television to the world wide interweb, a new Indigenous face or voice practically emerges every few weeks. To my mind, that is an indisputably good thing for all concerned, not least, for Canadian audiences.
There was once a time — perhaps even as recently as the 1980s or 1990s — when you could maybe count on one or two hands the number of working Aboriginal journalists combined in this country. These days, I bet APTN National News' core of reporters alone would exceed those tiny totals of yesteryear.
Indeed, you could say we have achieved critical mass in this regard.
Oh yeah, I did say that. (I'm so prescient.) Or, at least, I raised the possibility that a 'tipping point' has been reached in the numbers of First Nations, Metis and Inuit journalists now plying their trade North of 60.
But see the other piece to my tweet? The bit where I implicitly ask what more can be made of all that storytelling talent, experience and skill? Could that corpus of creativity perchance be amassed and thereby generate a whole that's greater than the sum of its parts — in, say, the form of a Canadian Aboriginal Journalists Association? (First order of business: find a far better name.)
Here, I'm simply thinking of some form of regular, quasi-formal, in-person networking where participants from all four corners of Canada would connect and compare their experiences. Beyond that, it'd be up to us 'members' to decide what we did when gathering together. It could be no more complicated than enjoying over drinks the shared relief of not always being the only brown voice bobbing about in a vast sea of non-Aboriginality back in our respective newsrooms. (APTN being one of a few obvious exceptions.) But, knowing the wide pool of wickedly smart Indigenous journos that exists out there, I'm confident we'd figure out all sorts of cool reasons to connect and craft a multitude of ways to help each other out personally and professionally.
That's the vague idea, anyway — deliberately so, in fact, because any truly member-based association would necessarily have to be member-driven.
So, my fellow AboJournos, I invite you to tell me what you think of all this in the comments area below.
Meantime, as you compose your thoughts, take a glance at the compilation of Aboriginal 'media tweetas' below. It should give you an idea of just how many Indigenous press types are out there. It is indeed a respectable number, an ever-evolving list to which new names will be consistently added, I expect, so check back often.
UPDATE  [6 July 2018] Well, I'll be: Storify, the tool I was using to compile that list of Indigenous journalists on Twitter is no more as of two months ago. I will have to find another way of presenting that list.