Aboriginal Athletes at Vancouver 2010 Winter Olympics
While I have every intention of blogging about the pro- and anti-Olympic arguments kicking up snow within the indigenous corners (and beyond) of the InterWeb, I wanted to draw attention at this time to the two Aboriginal athletes in competition at the 2010 Winter Olympics. (There are also two at the Paralympics, which immediately follow. More on them in a later post.) Both are women, and both are snowboarders.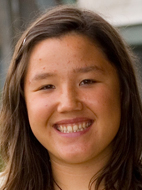 Callan Chythlook-Sifsof is a Yup'ik-Inupiaq snowboard cross competitor from Alaska, which obviously makes her a member of Team USA.
She was officially named to the team last month. According to her mother, "she's the first Alaska Eskimo in the history of the Olympics — we've researched it."
Chythlook-Sifsof's big day happens on Tuesday Feb. 16 beginning at 10 am pacific, 1 pm eastern when qualifying runs start. It quickly moves on from there to quarterfinals, semis and the gold medal race at 12:40 pm pacific (3:40 eastern).
To watch her race in Canada, you'll first catch the qualifying runs on TSN at 10 am until noon (all times pacific). Then, you'll skip over to CTV to see the finals at 12:15. (There are on-line streams of much if not most of the Games as well on the CTV site.)
In the U.S., you can see Chythlook-Sifsof do her thing on NBC, who have profiled her on their site. (Check your local listings to confirm the time of broadcast if it isn't shown/streamed live.)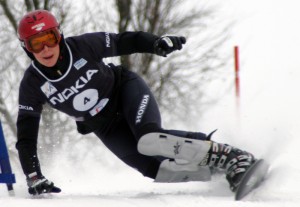 Meanwhile, Team Canada's snowboard contingent includes Quebec's Caroline Calve. She is "of Algonquin heritage and is part of the First Nations Snowboard Team." She is ranked 35th in the world in her Olympic event, Parallel Giant Slalom. It is considered "one of the most gruelling events at the Games," with nine rounds needed just to get to the final.
The Ladies Parallel Giant Slalom happens Friday Feb. 26. In Canada, you can first catch Calve on CTV for the qualifying runs, which begin at 10 am pacific (1 pm eastern), with the finals carried over on Sportsnet, which are scheduled to start at Noon pacific (3 pm eastern).  Again, U.S. viewers you will have to check NBC for what's showing in your area.
I wish both women well in their respective races, and will share their results as they come available.
UPDATE: As it happens, neither Chythlook-Sifsof nor Calve moved on beyond their respective qualifying runs.
In her event, Chythlook-Sifsof had two chances to crack the top 16 in order to qualify: with her first run leading to a 19th place finish, her second run resulted in a 'Did Not Finish' (DNF). But, as she told KTUU TV, the rookie Olympian was far from discouraged by her performance: "I'm definitely fueled for Russia [site of the 2014 Olympics]. I can't wait to get some redemption."
Calve, meanwhile, finished 20th in her initial heat, or four places back of the top 16. Despite being less than 4 seconds off the fastest time, the very tight field left no room for error. But shed no tears for Calve, who said, despite "frustrations and disappointment, I have a hard time being depressed about the games! Isn't it already an accomplishment to reach the Games [?]" She hopes to redeem herself on the World Cup circuit, and continue to pursue the sport she loves.
[Images via NBCOlympics.com, carolinecalve.com]