Would Bloomberg speak of Blacks the way he did about Indians?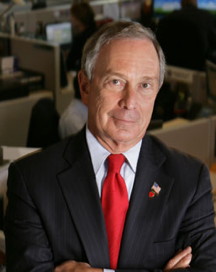 You might never have heard of Mayor Bloomberg of New York City or care about anything he might have said. In fact, the most you might ever see of NYC would be on a screen or through a window landing at or leaving JFK International.
But what if the Governor of NY State sought the Mayor's counsel about some pesky Indians selling tobacco products just beyond reach of his taxmen? What if Bloomberg's reply included these words: "get yourself a cowboy hat and a shotgun…"?
Some background: Indians (mostly Seneca, Oneida and Mohawks) living in western and upstate New York have built growing local economies in so-called depressed areas of the state by exploiting reservation-based gambling and tobacco. These tribes say these businesses are within tribal jurisdictions and not yet choked by webs of federal, state and municipal laws and bureaucracies.
NY State has long coveted the potential tax revenues of these businesses but has been wary of challenging these tribes on constitutional and treaty issues. Courts have sided with tribes on gambling and casinos. The State is trying to avoid similar decisions on the tobacco trade. So Governor Patterson of New York State wanted to know what Mayor Bloomberg, a wealthy financier, might suggest. You already know part of his answer. Gov. Patterson has since called Bloomberg's words "inappropriate."
One writer with Indian Country Today riffs on Bloomberg's fit of flapping jaw, wondering what if those words had been uttered about African-Americans instead?
Imagine for a moment: New York Governor David Paterson finds himself in the 11th hour of a controversy involving an African-American group exerting its fundamental rights against the State of New York. He turns to Mayor Bloomberg for advice, thinking the mayor may have a promising diplomatic strategy to suggest. Instead, the mayor quips, "Get a white robe and piece of rope, and show them who's boss − now that would be a great video!" Shock. Outrage from all corners. Marching in the streets. Political heads roll.
Then David Kimelberg, the writer, gets to the point:
The real shock and outrage is that Bloomberg recently made essentially the same statements about Native Americans, and no one raised an eyebrow.
Well, not exactly no one. Still, hardly anyone noticed, which is why the Oneidas decided to draw attention to the issue by marching on Mayor Bloomberg's office in NYC. They called Bloomberg's words "offensive and hateful."
Pretty mild stuff, but what to do when the banality of racism against Indians across the United States seems so pervasive and insidious that it's almost considered normal and acceptable?
Yet Indigenous peoples rarely challenge such incidents, perhaps due to their fewer numbers or lesser economic and political influence when compared to those of Black, Hispanic or Asian populations. Nor do they have the organizational capabilities of Jewish communities when attacked by similar incidents of racism.
Valerie Taliman, also in Indian Country Today, finds the situation of Indigenous peoples in Canada shocking. She attributes their state directly to Canada's Indian policies, originally designed to destroy Indigenous cultures and identities on a grand scale. However, she notes the many ways in which these policies result in specific abuses against individuals.
It should surprise and shock anybody who reads her piece. And yet it also seems so easily ignored and avoided.