Who are 'The Enbridge 18?' A call to crowdsource Northern Gateway's Aboriginal partners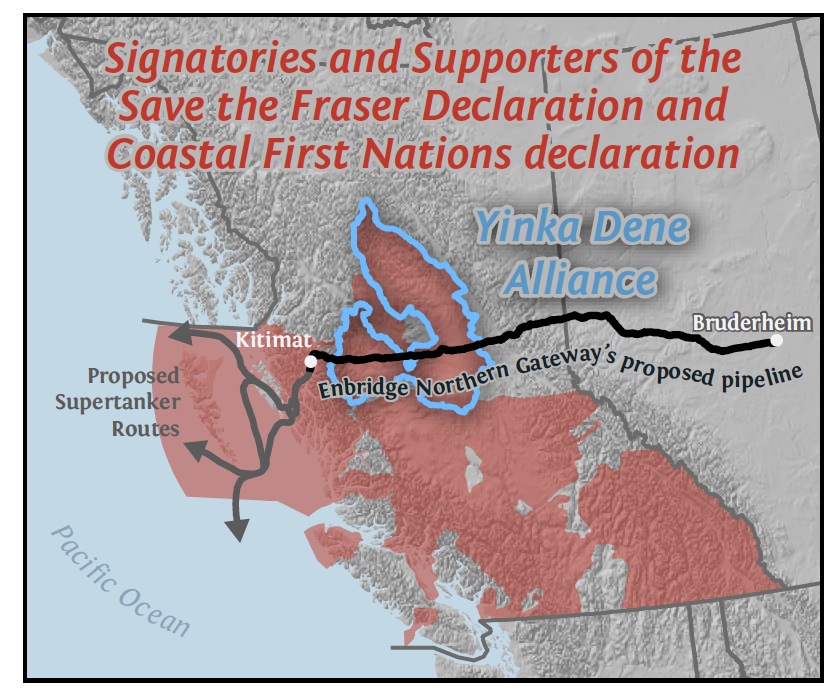 This week, the Canadian oil and gas company Enbridge — operator of "the world's longest, most sophisticated crude oil and liquids transportation system" — released a statement claiming that, with regard to Aboriginal support of the proposed Northern Gateway pipeline project, it has confirmed that
Almost 60 percent of eligible Aboriginal communities along the [desired route], representing 60 per cent of the First Nations' population (and 80 per cent of the combined First Nations' and Metis' population), have agreed to be part owners of the proposed Northern Gateway pipelines … Half of the equity units taken up went to groups in British Columbia, and the other half to groups in Alberta.
According to a CBC.ca report, an estimated 18 communities may have accepted the deal thus far. However, when it came to naming those agreeable communities, Enbridge was tight-lipped, stating it is "contractually prohibited from disclosing the identities of our Aboriginal partners at this time. Public disclosure is a matter for individual communities."
On one level, it seems that figuring out who constitutes 'the Enbridge 18' would be a more or less simple process of elimination. For example, the Coastal First Nations alliance issued a press release just hours after Enbridge did, counter-claiming that
"[Of] all the First Nations on the pipeline route west of Prince George [that we have checked with], only two First Nations have signed equity agreements," says [CFN executive director Art] Sterritt … Sterritt says the numbers being bandied about by Enbridge are flawed. "Enbridge expanded its pipeline corridor by 80 kilometres to increase its numbers. Many of these communities that have signed on are located outside of the areas that will be most impacted by a spill."
Meanwhile, according to an April 3, 2012 Vancouver Sun article, dozens of BC First Nations "along the pipeline route, Fraser River and coast … [have] signed their names to [the 'Save the Fraser'] declaration calling for an 'unbroken wall of opposition' to pipelines and oil tankers along B.C.'s coast." The map shown above (produced by the affiliated Yinka Dene Alliance) depicts the boundaries of that wall.
That same Sun piece indicated it's a different story in Alberta, in that most First Nations there "have not said whether they support or reject the 1,172-kilometre pipeline." The only one prepared to go on the record — the 2,000-member Cree community of Driftpile First Nation — did so to register their opposition to Northern Gateway.
On the Métis side of things, opinion appears split, at least in British Columbia: the BC Métis Federation shared its "extreme disappointment" back in April and more recently over the decision by Métis Nation British Columbia (MNBC) to sign an equity deal with Enbridge.
But beyond this, the picture remains incomplete. Which, to me, seems like a prime opportunity for some investigation of the crowdsourcing variety.  That's where the widely-distributed individual efforts of the many are pooled together toward one goal.
In this case, my open call for assistance asks that anyone who should happen to live in/near an Alberta/BC First Nation falling within 80 km of the proposed pipeline route (or know of someone else who does) is asked to please confirm/deny whether said First Nation is one of the 18 to have supposedly signed an Enbridge agreement.
If/when you do, I'd ask that you tell me so in the comments section below; I will draw on them here, amending the master list as I go.