POLL: Is Johnny Depp's 'Tonto' a salute or slight to native people?
I like you, Johnny Depp, I really do. You were great in Donnie Brasco and amazing in Fear and Loathing in Las Vegas.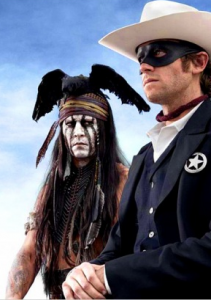 But lately I'm having second thoughts. This past week a photo emerged of Depp as the classic Native American movie character Tonto in a remake of the famed Lone Ranger films.
Depp has told media that he intends to 'salute Native Americans' and push boundaries with this depiction of Tonto — but that really doesn't change the fact that it's a white dude dressed as an Indigenous person, and I really thought we were beyond that.
With all the Native American actors in Hollywood, we really couldn't have cast one for this role?
What do you think? Is Depp as Tonto a salute to indigenous people — or is it just plain offensive?
[polldaddy poll="6026524″]