POLL: Is it fair to reserve some government jobs just for Aboriginal people and visible minorities?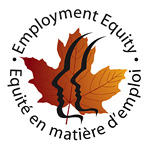 Canada's employment equity policies (known as "affirmative action" in the U.S.) could be headed for a major overhaul after an Ontario woman was blocked from applying for a job with the federal government because she's white.
Sara Landriault was filling out an application for a job as an administrative assistant with Canada's Department of Citizenship and Immigration.
But when Landriault indicated that she was white on the online application, she was blocked from submitting a resume because the position was designated exclusively for Aboriginal or visible minority candidates.
The position was listed on a website hosted by the Public Service Commission of Canada to manage over 20,000 federal government hires.
Now, Canada's Conservative government has ordered a review of such 'affirmative action' policies, saying the federal public service should hire based on merit, not race or gender.
Opposition parties in Canada say any measures that close the employment equity gap are necessary, but according to an article in the Toronto Sun, the woman at the center of the controversy disagrees:
"I think that's only the leaders saying that because they are in opposition. If they really feel like that then I'd like them to explain to my children why they won't get a job one day because they are white."
As it turns out, though, these kinds of hiring restrictions on the job Landriault sought are exceedingly rare. According to CTV Ottawa: "The [Public Service Commission] says job postings exclusively for aboriginals or visible minorities make up about one per cent of all [20,000] jobs available." That works out to roughly 200 jobs.
What do you think? Is Ms. Landriault right to criticize the federal practice of reserving some public service positions for Aboriginal candidates or candidates belonging to a visible minority group? Or is it still the case that, as the Employment Equity Act states, "correct[ing] the conditions of disadvantage in employment experienced by women, aboriginal peoples, persons with disabilities and members of visible minorities … requires special measures"?
One way you can let us know how you feel is to vote in our newest poll below!
[polldaddy poll="3521197″]