Obama shares the wealth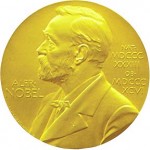 In one of the most controversial announcements to ever come out of the Nobel Foundation, U.S. president Barack Obama was awarded the Nobel Peace Prize for 2009. Peace advocates questioned the selection, given the American military presence in many conflicts around the globe. Obama accepted it humbly, and vowed to donate the $1.4 million dollar prize to goodwill. This week he finally announced what he'd spend it on, and the breakdown is as follows:
$250,000 to Fisher House, which provides housing for families of patients receiving medical care at military and veterans hospitals
$200,000 to the Clinton-Bush Haiti Fund, which raises funds for long-term relief efforts in Haiti
$125,000 to College Summit, an organization dedicated to increasing college enrolment rates
$125,000 to the Posse Foundation, which provides scholarships for public high-school students with extraordinary academic and leadership potential who may be overlooked by traditional college selection processes
$125,000 to the United Negro College Fund, which enables more than 60,000 students each year to attend college through scholarship and internship programs
$125,000 to the Hispanic Scholarship Fund, the leading Hispanic scholarship organization in the United States
$125,000 to the Appalachian Leadership and Education Foundation, which provides scholarships so young men and women from Appalachia can pursue higher education
$125,000 to the American Indian College Fund, which provides scholarships for American Indians
$100,000 to AfriCare, whose programs, primarily in Sub-Saharan Africa, address needs in three principal areas: health and HIV/AIDS; food security and agriculture; and water resource development
$100,000 to the Central Asia Institute, which promotes and supports community-based education and literacy, especially for girls, in remote regions of Pakistan and Afghanistan
An impressive list of charities, and a clear standout is the American Indian College Fund. It's obviously much needed money for a great cause. Native North Americans are less educated than others, due largely to poverty and limited access to post-secondary education. This money may pay the tuition for only a handful of Aboriginal students for a year, but the gesture is no doubt appreciated. But is this goodwill or just pandering? Obama was propped up as a president for all colours when he took office. This will at least beef up that resume.