Why there ain't no such a-thing as "Aboriginal culture"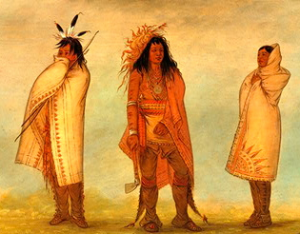 Summertime and the livin' is powwow, gathering, or festival. It's over-priced Indian tacos, bison burgers, moose stew and corn soup.  It's the endless drone of boring chatter and lousy jokes by an MC, stalls of snake oil salesmen hawking surefire cures for diabetes and arthritis, and traditional dancers wearing outfits with faux beadwork made of colorful printed cloth and not a single bead or piece of leather, except perhaps for the mocs on their feet.
Don't get me started on the rows and rows of stalls filled with mass produced dreamcatchers, crystals, fake turquoise and t-shirts with wolves, bears and eagles. Why anyone would shell out $25 or more for a $5 t-shirt with a really lousy animal print is beyond me.  P.T. Barnum, he of Barnum & Bailey's "Greatest Show on Earth" and promoter extraordinaire, said there was a sucker born every minute. He had it about right.
Snob? Not really. Don't get me wrong. I love to drop by to see old friends or make new ones. To watch or, better yet, jump into a round dance along with everyone else in the audience. Or, to sit and savour every spoonful of a really good bowl of corn soup that reminds my taste buds of those grannies on Cornwall Island or down in Oneida territory.
No, what gets me is the crass commercialism and blatant fleecing of the crowd, one perhaps lured by the call of the drum but more likely by increasingly slick advertising for…  what? 'Aboriginal culture?'
The signs are up at every single one of these gatherings: "Welcome to (insert place) Powwow, a celebration of Aboriginal culture." It might be in Wikwemikong, Fort Alexander, Carcross, Winnipeg, Calgary, Montreal, Ottawa, Toronto, Kahnawake, Ohsweken. They're all guilty of promoting something called "Aboriginal culture."
This is bad enough for the idiots among us. But the real target is the poor unknowing Caucasian who wouldn't know the difference between Ojibway and Algonquin, Mi'kmaq or Maliseet. For all I know, these poor suckers might actually believe this is how we live all year round, in little powwow villages called reserves, surviving on bison burgers, corn soup and selling each other mass produced dreamcatchers.
Of course, they've heard about Attawapiskat. But that's a place that doesn't look like a powwow village. Perhaps this is the real reason for their outrage last winter.  Maybe, they think, folks up there don't sell each other enough dreamcatchers and bison burgers and that's the real reason why that place is in such a mess.
But that isn't the point. This is: there ain't no such a-thing as "Aboriginal culture."
"Aboriginal culture" is a false construct, a somewhat pleasing but ultimately stupefying myth. I expect some idiot to tell a reporter someday that he ain't Cree — he's Aboriginal! Or she isn't Anishnabe — she's Aboriginal!  Or they're not Inuvialuit — they're Aboriginal.  When — not if — that happens, I'll know that we'll have totally failed as storytellers and artists and playwrights because we haven't done a good enough job to protect and explore our own cultures. By falling for this one word, we encourage a process that erases our national identities and helps dissolve us all into one big tasteless, meaningless pot of cold mush.
More than once lately, someone has asked, "We didn't call it 'Aboriginal Day.' We called it 'Solidarity Day' or 'Unity Day.' When did it change?"
That's how it happened. Slowly. Gently. A slight change in the name of a grant form became a nudge toward an annual celebration of generic-hood. The 'no-naming' of our individual, multicolored and multinational cultural identities. All it took was a little money to convince us to forget 'Solidarity' against colonialism, against the threat of governments' use of force if we didn't behave, against the power of "The Man" in Ottawa. Remember that "Solidarity Day" came about because for the first time in a generation, people stood tall and spoke up during a little thing called the "Oka Crisis."
A little money and we forgot to stand in unity for our rights, for our existence and uniqueness in this world. Today, there are no Cree, Anishnabe, Pikani or Mohawk powwows or gatherings on June 21. They're no-name, generic, one-size-fits-all gatherings that celebrate nothing but a day off. It happened without a growl or a whimper.
This isn't about race. It's about culture. Culture — not language or the colour of our skins — makes us different and special. Each and every one of our languages is said to be the key to our very many and separate cultures. It's our cultures that make "People of Flint" (Mohawk) different from "People of Stone" (Oneida) and different from any of the other independent nations under that umbrella called the Haudenosaunee.
You may know us as the Six Nations Confederacy.  But you probably also think of us as one, single entity. We aren't.  We — Haudenosaunee — are very different peoples, with different cultures even though we share a certain linguistic flavor.  We're different nations united politically under one common law into a confederacy.
That's the beauty of culture, you see. I may share the roots of a language with others but remain different. I might not speak my language at all but still be able to appreciate and learn about my culture and what makes it — and me — different from someone from the Prairies or the Atlantic or even my Haudenosaunee brothers, the Seneca. This knowledge gives me the foundation to appreciate my ancestors who made all of this possible.
Strangely, disgustingly, I rarely hear anyone talk about their nations or their nationality anymore.  They do on the southern side of another great construct called the international border. Down there, they call themselves the "Ojibway Nation of…" someplace, or "the Seminole Nation of…" someplace else.  Up here, I walk into city kids and ask: "What's your nation?" And they reply: "Aboriginal." Down there, it's the Bureau of Indian Affairs but it's No-Name Affairs up here.
What if… the Assembly of First Nations passed a resolution to ban the word "Aboriginal" from its lexicon? Would it be so terrible if they used three words instead of one?  What if this same resolution committed the AFN's band councils to do the same?  Would the world end?
What if these band councils also committed to stop calling themselves "first nation" and instead they told the truth. For example, what if Pikwanagan admitted it wasn't a nation unto itself, or first nation, but "part of the Algonquin Nation." What if Grand River told the truth that it wasn't "the Six Nations" but only a part of a Confederacy divided by that same international line, or Haudenosaunee (Iroquois) a "part of the Mohawk Nation… Seneca Nation… Onondaga Nation" and so on.
Yeah, you're probably right. Technicolour dreaming. Perhaps a first, overly-optimistic step might be a resolution to go back to calling June 21 "Solidarity Day." This might revive the meaning of June 21 which has become little more than a day off work, a chance to be walking, talking tourist attractions for many, and a time to draw the suckers in for others.