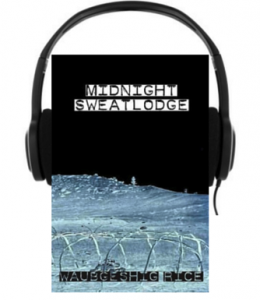 The audiobook version of Waubgeshig Rice's Midnight Sweatlodge is now a reality after its successful campaign back in December on Kickstarter.
Clocking in at around 2 hours in total, the four stories are read by Rick Harp. The audiobook was recorded  at Precursor Productions in Winnipeg.
To buy the audiobook on-line (as a digital download), go to our Gumroad page.
Music credits: Midnight Sweatlodge Audiobook
This soundtrack was entirely sourced from artists publishing under a CC-BY license. To learn more, check out these links to the originating albums.
(Track: 'Song title' by Artist, Album)
1: 'erik' by Fog Lake, Virgo Indigo
2: 'transcanada' by Fog Lake, Virgo Indigo
3: 'Insomnia' (instrumental version) by Josh Woodward, Dirty Wings
4: 'Cien Volando' (instrumental version) by Josh Woodward, Dirty Wings
5: 'The End' by Spin Day, Spin Day And The Emotional Godfather
6: 'Lafayette' (instrumental version) by Josh Woodward, The Wake
7: 'I'm Letting Go' (instrumental version) by Josh Woodward, The Simple Life
8: 'The Last Slice of Pecan Pie' (instrumental version) by Josh Woodward, The Beautiful Machine
9: 'California Lullabye' (instrumental version) by Josh Woodward, The Beautiful Machine
[Note: Only portions of the above tracks were featured on this audiobook.]