REVIEWS: New CDs from Robbie Robertson; Derek Miller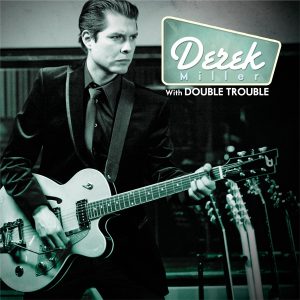 DEREK MILLER
Derek Miller with Double Trouble
Juksa Records | 2011
MI Rating: ★★★1/2 (out of 5)
—————— ◊ ——————
Renowned for his live, blues-inflected, roots rock sound, guitarist and singer/songwriter/producer and actor Derek Miller (Mohawk/Six Nations) first gained national attention when he toured with the iconic Buffy Sainte-Marie in the late '90s.
His raw, emotional style of playing and ability to write songs led to more touring and recording with Keith Secola & the Wild Band of Indians in support of their 2000 album Fingermonkey. Two years later, Miller released his debut album, Music Is the Medicine, which garnered a Juno Award followed by more extensive touring.
By 2005, Miller found himself exhausted and struggling with drug and alcohol dependency. He entered rehab and spent the next year working to regain his physical, mental, and spiritual health: "I entered rehab on the rez. It gave me a sense of pride in my identity, it grounded me, and raised me up." In 2007 he released The Dirty Looks, which reinvigorated his reputation as a must-see live act.
Featuring a total of 15 bed tracks recorded over a whirlwind, 12-day session in the musical mecca of Austin, Texas (to be featured as part of a companion documentary), Derek Miller with Double Trouble is the singer-songwriter's latest album, a collaborative effort with the rhythm section of Stevie Ray Vaughan fame. For Miller, that experience of playing with Double Trouble "allowed me to see where I was as an artist and where I could be down the road."
The music came to life in the Pedernales Recording Studio, owned by the legendary Willie Nelson. During the sessions, one of Miller's songs was handed off to Nelson through groundskeeper Ed Russell. Written with the phrasing of a classic Nelson song, the track so excited the country outlaw he would ultimately appear on the album's initial release, "Damned If You Do." While the album delivers some of his best music to date, hardcore Miller fans may wonder whether a couple of songs sound a little too similar to his earlier work.
ROBBIE ROBERTSON
How to Become Clairvoyant
Macro-Biotic Records/429 Records
| 2011
MI Rating: ★★★1/2 (out of 5)
—————— ◊ ——————
It's been a long, 13-year wait for fans awaiting Robbie Robertson's (Mohawk/Jewish) fifth solo album. Musically, How to Become Clairvoyant is many steps away from the native themes heard on two of his past projects – the soundtrack Music for the Native Americans (1994) and Contact From The Underworld of Redboy (1998) – recordings that remain classics of the contemporary Aboriginal genre.
This new album showcases some of Robertson's song structure skills, closely associated with his seminal work in The Band, enhanced by the talents of several incredible guests, including guitarists Eric Clapton, Robert Randolph and Tom Morello (of Rage Against The Machine and Audioslave), as well as contributions from former Nine Inch Nails frontman Trent Reznor, Steve Winwood and others.
The album drew its inspiration from a trio of songs Robertson and Clapton wrote together two years ago. Free of movie-scoring commitments (he's worked on a total of 22 films), Robertson began recording in London and Los Angeles.
Clairvoyant shares personal and even autobiographical stories within a rich, moody soundtrack that perfectly surrounds Robertson's deep, smoky voice. The overall impact is a thoughtful series of narratives, harkening back to his album Robbie Robertson (1987).
Several years ago at the National Aboriginal Achievement Awards, I asked the Mohawk Elder of rock n' roll if any new music was on the horizon, to which he smilingly replied, "I'm no longer on the assembly line." This album comes from an artist who waited until the time was right; thankfully, that time has finally come.
Reviewer David McLeod (Ojibway/Metis) is the Executive Producer of National Aboriginal Music Countdown, a two-hour radio program heard weekly across Canada.